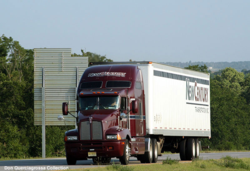 Westampton, NJ (PRWEB) March 07, 2013
Just as the entire trucking industry is remodeling itself to benefit from the efficiency of doing business on-line, the Internet has become the employers' best weapon in the tough competition for today's talent pool. Not only are more trucking companies aware of the need to establish their on-line image with impressive company websites of their own, they also realize that appealing to a niche demographic of truck drivers requires taking it a step further and linking themselves to the industry's most established on-line job boards – where today's generation of job seekers go. Among the most reputable and popular of these specialty trucking job sites, TruckingUnlimited.com offers employers the best of both worlds; an immediate audience of the targeted candidates and the unlimited outreach to all types of drivers in every state.
While New Century Transportation is based in New Jersey and their services mainly provide the East Coast, the company's current need for new drivers is gaining from TruckingUnlimited.com's widespread appeal. Offering a full range of over-the-road transportation solutions that include time-definite, dedicated, temperature-controlled and specialized less-than-truckload and other truckload services – New Century demands dedicated drivers of every type. Since their start in 2000, the company has grown as premier top-100 LTL carrier, developing an extensive network of resources and a fleet of over 1000 tractors and 2000 trailer units. The company prides themselves in their state of the art fleet and the professionalism of their team, setting the standard of their superior service in transporting a variety of items that includes hazardous materials, chemicals and pharmaceuticals.
Currently hiring both company drivers and owner operators for everything from van, flatbed, reefer, tanker, car hauling and household goods, New Century also sets itself apart from other companies by what they offer their employees as well. A family oriented culture that rewards loyal drivers with an unsurpassed compensation and comprehensive benefits package. With paid training right from the start, to the industry's highest pay rates, to major medical, prescription, dental, vision plans, to disability, life and accident insurance, to an employee assistance program and 401K program, to a flexible spending account, paid holidays, paid vacation and paid personal days, to guaranteed regular home time and even a health and wellness program as well.
If that is not enough, New Century is truly a company that goes many extra miles with even more incentives to retain a happy family team. These other perks include safe driving performance bonus, referral bonuses, cell phone reimbursement, no charge rider program and one of the rare trucking employers that even has a policy allowing drivers the best riding companions of all – their pets.