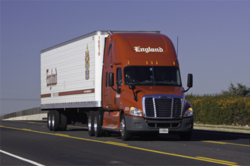 Salt Lake City, UT (PRWEB) March 08, 2013
Since 1920, C.R. England has partnered with their drivers to help them meet their immediate professional needs and shape their multi-faceted career paths driving long into the future. Now in 2013, with a national truck driver shortage challenging any company in need of qualified drivers, C.R. England has joined one of the industry's primary recruiting sources - TruckingUnlimited.com.
While C.R. England prides itself in offering among the best career opportunities in the industry, TruckingUnlimited.com has established itself as the one shop on-line truck stop for those seeking the best trucking jobs and their newly formed partnership is the latest example of how specialty job sites are revolutionizing recruiting. While the Internet offers unlimited exposure to today's generation of truck drivers, specialty job sites such as TruckingUnlimited.com immediately capture the niche target audience of truck drivers, rather than general job boards combining thousands of jobs and thousands of applicants into a sea of hit and miss. Trucking employers such as C.R. England recognize these job sites are becoming as essential to recruiting, as good drivers are to their business.
Operating as the world's largest refrigerated trucking company since 1920 and specializing in temperature sensitive freight such as fresh produce, meat, dairy products, beverages, and chemicals. C.R. England knows that retaining a team of top drivers is as important as maintaining their top of the line equipment. Offering services that include long haul truckload, short haul regional, Mexico, expedited priority rail service and tailor-made dedicated service, while maintaining a solid track record as one of the nation's leading carriers for over 90 years, C.R. England knows that investing in their drivers is what keeps their company running and ranked as number one.
Currently hiring Over-The-Road, Dedicated, Intermodal and Regional drivers and owner/operators to join their team in locations across the country, C.R. England offers such a multi-faceted career path, the company has opportunities for everyone from veteran drivers seeking owner/operation programs, to drivers seeking mentor/training options as well to paid training position for new CDL graduates without any experience at all.
Most important is what this company offers all of their drivers, differentiating themselves between companies simply hiring employees to fill a job and distinguishing themselves as team of individuals investing in each other, while building their own futures and careers. From excellent training, to the industry's most competitive pay and graduating pay scales, to driving top of-the-line equipment, to strong driver support programs, to mileage, safety and fuel saving bonus programs and safe driving awards, to vacation pay, to health benefits and insurance, to 401K retirement programs to the most liberal family rider policy in the industry, C.R England pretty much has everything that a truck driver could hope for. Not to mention that they are also a family oriented business going the extra mile to ensure regular and frequent home time, perhaps the single most important thing to today's generation of truck drivers.