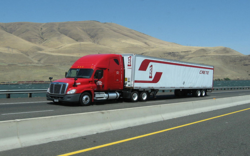 Lincoln, NE (PRWEB) March 13, 2013
With the simple objective of connecting today's talent pool with immediate on-line access to the best and most current truck driving positions across North America, TruckingUnlimited.com has become known as "one-stop on-line shop for trucking jobs", benefiting both applicants and employers. It is an example of how specialty job sites now offer employers the best of both worlds; internet capabilities allowing immediate, unlimited exposure to a niche demographic of today's truck drivers, (who want immediate access to the best available jobs). TruckingUnlimited.com is proving to not only meet what the current truck driver shortage demands, it's another indication of how the Internet is revolutionizing the trucking industry. Now, they aim to help Crete Carrier fill their trucking jobs.
Founded in 1966, Crete Carrier has been adapting to the trucking industry's evolving needs well enough to be ranked as one of the largest privately owned trucking companies in the country today. Forming a collective affiliation with Hunt and Schafer Transportation, the group operates over 5,600 tractors and more than 13,000 trailers, constantly updating their fleet to be one of the newest in the industry with an average age of 2 years. With Crete Carrier providing dry van truck driving jobs, Shaffer Trucking offering refrigerated truck driving jobs and Hunt Transportation specializing in flatbed trucking, the collective operation currently has a full range of available positions across the country.
In addition to new well-maintained equipment making them one of the safest transporters in the industry, their professional drivers are among the best on the highways, meeting standards far exceeding those required by the U.S. Department of Transportation. As a result, the company is proud to boast having one of the lowest driver turnover rates in the industry and this also due to offering among the best compensation packages as well. Unlike many companies in the trucking industry using "Short Route Miles" pay rates, Crete uses "Practical Route Miles" which more accurately represents a driver's actual route and calculates to about two to four percent more paid miles. Also, qualifying drivers with one or more years of verifiable experience are eligible for their experienced truck driver pay rate. Drivers will be paid 41¢-44¢ per practical mile depending on their experience and work history.
The company also provides one of the best benefit plans in the industry that includes; Health, Dental, Vision insurance to drivers and their families, along with a 401k plans, personal time and vacation pay as well. All these company benefits are effective for new hires the first of the month following 30 days of employment.