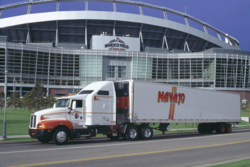 Denver, Colorado (PRWEB) March 20, 2013
A family owned business since 1984, Navajo Express has already proven its combination of traditional values and innovative approach to technology has achieved success above the rest. Awarded a 2012 National Fleet Safety Award for Excellence in Safety from the Truckload Carriers Association and being one of the first companies to install electronic board logging, Navajo Express is ranked among the top ten carrier companies in the nation. But, no trucking company is immune to the challenges of today's truck driver shortage and appealing to a new generation of drivers requires taking full advantage of all the capabilities that on-line technology now provides.
Like many businesses becoming aware of the importance of their on-line image and creating impressive company websites of their own, Navajo Express is going the extra mile to appeal to a new demographic of truck drivers and evolve with today's technology. Not only are they one of the first trucking companies with their own facebook and twitter page updating followers on the company's latest news in real time, company owner, Don Digby Sr. has assigned their very own "driver liason" in charge of communications and keeping their team connected to company news and life on the road with a daily "driver blog". Navaojo Express is as tech-savvy as trucking companies get and steps above the rest in their own capacity of technological innovation, but when it comes to recruiting new hires, the company also recognizes the benefits of branching out to the partnering expertise of websites like TruckingUnlimited.com
With immediate positions for local, regional and over the road drivers adding to their current team of 1500 employees, Navajo Express is as committed to recruiting today's best drivers as they are to retaining them. Like a growing number of companies, they have increased their chances of success with partnering jobsite TruckingUnlimited.com, to drive up their on-line hiring campaign. Known in the industry as a "one-stop on-line shop for the best trucking jobs", TruckingUnlimited.com provides an on-line meeting place benefiting both applicants and employers. With its continuously updated job board listing the best available trucking opportunities in every state, TruckingUnlimited.com is a proven example of how industry job sites offer employers the best of both worlds; internet capabilities allowing immediate, unlimited exposure to a niche demographic of today's truck drivers.
Partnerships between major carrier companies such as Navajo Express and job sites such as TruckingUnlimited.com is also another indication of how Internet technology is revolutionizing the trucking industry and bringing success to the more innovative companies willing to explore the many advantages to be had.