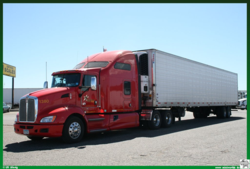 Carson, California (PRWEB) March 22, 2013
Just as almost every aspect of the trucking industry is advancing with technology and remodeling itself to the increased efficiency of doing business on-line, technology has become the employers' best weapon in the tough recruitment competition of today. Not only are more trucking companies aware of the need to establish their on-line image with impressive company websites of their own, they also realize that appealing to a niche demographic of truck drivers requires taking it a step further and linking themselves to the industry's most established on-line job boards – where today's generation of job seekers go.
Western Star is among the increasing number of employers recognizing the major advantages offered by specialty job sites such as TruckingUnlimited.com. With the simple objective of connecting today's talent pool with immediate on-line access to the best and most current truck driving positions across North America, TruckingUnlimited.com has become known as "one-stop on-line shop for trucking jobs", benefiting both applicants and employers. It is an example of how specialty job sites now offer employers the best of both worlds; internet capabilities allowing immediate, unlimited exposure to a niche demographic of today's truck drivers, (who want immediate access to the best available jobs). TruckingUnlimited.com is proving to not only meet what the current truck driver shortage demands, it is another indication of how the Internet is revolutionizing the trucking industry.
With 200 trucks, 230 trailers and nearly a million cubic feet of cold storage using state of the art equipment to make them the largest LTL refrigerated carrier in Southern California, Western Star is using TruckingUnlimited.com as their innovative recruiting tool to grow their quality team. Currently, the 48 state LTL and TL carrier has immediate positions for class A CDL drivers with a minimum of 2 years OTR experience OTR or one year experience working with refrigerated trailers.
In addition to offering their drivers the latest model trucks equipped with studio sleepers, navigational systems and refrigerators, Western Star is a family owned and operated business accustomed to keeping their team happy with many more things. From the highest starting per mile rates in the industry, to drop pay and bonuses, to medical and dental insurance, to regular home time and a rider program after 90 days, Western Star is as committed to retaining their drivers as TruckingUnlimited.com is to recruiting them.