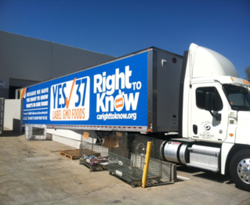 Vote YES on Prop 37
Los Angeles, CA (PRWEB) October 23, 2012
Truck-side advertising isn't a new concept, but it's often overlooked by many businesses that have yet to realize it as one of the most cost effective forms of advertising. The U.S. Trucking industry has certainly recognized it as a good secondary source of revenue, and more and more fleet trucks are delivering messages along with delivering products. Many truck companies are also signing up to provide a more "advertising-friendly" service for the businesses they carry.
Montana Governor, Brian Schweitzer is another recent example of a campaign strategy putting these factors to work Last summer's "Innovate Montana" project (attracting tourism and new businesses to the state), teamed up with Watkins & Shepard Trucking and Lowen Color Graphics to outfit five semi-truck trailers in eye-catching "Montana-esque" imagery. The mobile campaign successfully captured its targeted audiences in multiple states, traveling from Seattle to Chicago to Minneapolis and most recently, New York.
Governor Schweitzer explained just how efficient trucks can be compared to the traditional and much more expensive forms of advertising, during July's press conference campaign launch in Seattle:
"If you only have $150,000 advertising budget, you go to the Seattle market and buy some television, that goes up in smoke after one day, " Schweitzer said, "But when you move these trucks around, it catches people's eyes."
Trucks have also proven valuable for private owner operators with a more personal message. Last October, Richard Stidham, (owner of Stidham Trucking in California) decorated one of his semi-trucks in the pink and white slogan "Trucking For a Cause", honoring the driver 's wife, a breast cancer survivor. Not only was it one of the most popular displays at Eugene, Oregon's annual "Race for a Cure", Stidham's truck helped to spread breast cancer awareness long after the event, continuing its regular route up and down the Interstate 5.
"Everybody driving down the freeway is thumbing you up, waving, taking pictures," reported Steve Schuetz, driver of the "Trucking for a Cure" rig.
With the airline industry's continuing decline, commuters and highway travelers have been on the rise with a now estimated 90% of the population using highways regularly. Truck side advertising is a great way for any business to gain exposure, not only offering a growing audience of drivers but exclusivity amongst this most captive type of audience as well. Rather than the competing tactics and constant bombarding traditional forms of advertising have normalized in our everyday lives, a semi-truck's massive size and colorful imagery is a powerful presence in the monotony of highway driving and even welcomed entertainment in a parking lot of rush hour commuters.