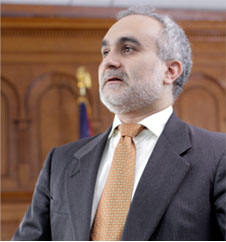 I applaud the FMCSA for looking at the entire transportation cycle in an effort to improve safety and save lives.
Washington, D.C. (PRWEB) May 24, 2012
Hopeful that it will help curb fatal accidents involving trucks, tractor-trailers and other commercial vehicles, attorney Michael Leizerman supports the Federal Motor Carrier Safety Administration's five-year strategic plan to examine practices throughout the trucking industry, not just at the people behind the wheels.
The FMCSA plan, entitled "Safety 1st Culture," is a wide-sweeping strategy that would impact all segments of the Commercial Motor Vehicle industry. To reduce truck-related fatalities on our nation's highways, the plan calls for FMCSA to develop a new driver credentialing process; establish new driver fitness standards; create programs that eliminate carriers with a high-risk history; and perhaps most importantly, seek legislation from Congress that broadens FMCSA's regulatory reach to include shippers, brokers, receivers and other key industry segments.
"I applaud the FMCSA for looking at the entire transportation cycle in an effort to improve safety and save lives," said attorney Michael Leizerman, truck accident lawyer and founder of TruckAccidents.com.
Leizerman knows as well as anybody the impact that negligent brokers and carriers can have on motorist safety. He recently tried and won a case against a driver and trucking brokerage company for negligent hiring. In that case, an Oregon jury returned a verdict in favor of the family of a man killed by a commercial truck for more than $5 million, including punitive damages. In the wake of that verdict, FMCSA's attempts to eliminate "chameleon carriers" - outfits that receive violations only to pop up under a different name - is particularly poignant.
FMCSA's long-term plan also calls for increased efforts to prevent unqualified drivers from operating commercial vehicles; more vigilant processes to detect and prevent high-risk behaviors by both drivers and carriers; an increased number of electronic onboard safety systems; and a thorough examination of the correlation between driver pay and driver safety behaviors.
"A large number of stakeholders contribute to the success of FMCSA's efforts to reduce CMV crashes, injuries and fatalities," the report states, according to an article published in Transport Topics. "FMCSA relies on all of these stakeholders to supports its safety mission, making this a combined priority in the CMV industry."
Leizerman is the managing partner of E.J. Leizerman & Associates, one of the leading transportation law firms in the United States. The firm handles a wide variety of catastrophic personal injury cases for clients nationwide, striving to provide personalized representation that result in exceptional outcomes. Contact Leizerman for additional feedback on FMCSA's "Safety 1st Culture" and how it could impact the commercial motor vehicle industry.
CONTACT:
Michael Jay Leizerman
Managing Partner
E.J. Leizerman & Associates
717 Madison Ave.
Toledo, OH 43624
419-243-1010
michael(at)leizerman(dot)com
leizerman.com
blog.truckaccidents.com