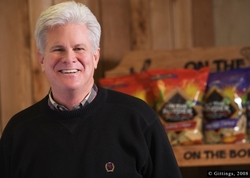 Brand building is like raising kids, and everyone associated with Truco is a parent. So from top to bottom, we surround ourselves with people like us — people who are inspired by improvement, and who take personal ownership in their piece of the pie. Discipline, courage, integrity, honesty, intelligence
Dallas, Texas (Vocus) March 26, 2008
Truco Enterprises, the exclusive licensee of On The Border® (OTB) brand of Southwest/Mexican retail food and beverage products is not your run-of-the-mill snack factory. Consider the following:
Truco/OTB is ranked as the third fastest growing brand of tortilla chips in the Food, Drug, and Mass-Market Category
It is ranked #6 in branded manufacturing
It has outpaced the competition with consistent double digit dollar growth over the last four years
Its frozen margarita mix has ranked number one in the nation, and has won numerous "Best Taste" competitions
It has the fastest growing salsa in the nation in terms of dollar growth nationally
Truco's On The Border® products span six different categories (salty snacks, dips, salsa, drink mix, soups, and frozen foods) — more than any other restaurant branded manufacturing company (even TGI Fridays™) — and will span seven categories by 2008. (Sources: IRI, IRI YTD Sept 07)
With so many accolades, and so much growth, the real question here is: "Why haven't I heard much about Truco?"
On the Border® — Off the Radar
Truco has been — and continues to be — a busy place. Its fifteen year track record of relentlessly developing and executing effective brand and business strategies that sustain the vision of premier quality delivered at a real value — has helped the company expand into six categories, create better flavors, grow supply chains — all while quietly staying off the national radar screen.
Despite continued accolades (even earning a seven-time award by the SMU Cox School of Business as one of "Dallas' Top 100 Companies"), Truco remains an unheralded force in the Southwest/Mexican food and beverage category. Since becoming the exclusive licensee of On The Border® products in 1993, Truco has quickly expanded into markets across the nation, distributing premium OTB products in grocery stores (such as Kroger®, Albertson's® and Safeway®), mass merchants (such as Wal-Mart® and Target®), wholesale clubs (such as Sam's Club®), convenience stores (such as RaceTrac® and Valero®), specialty stores (such as Bed Bath and Beyond®), military bases, catalog companies, and the Internet.
The company currently offers On The Border® products in six categories in the Ethnic Food Group: frozen foods (chicken and steak fajita home meal replacements), soups (Chicken Tortilla Soup and Chicken Chowder — Southwest Style), Salty Snacks (six varieties of tortilla chips), Salsa (hot, medium and mild), Dips (three varieties), and Drink Mixes (seven flavors of buckets, and four flavors of bottle mixes). A seventh category (Spices — with Southwest flavors to compliment meats) is on the immediate horizon for 2008, as well as development of OTB organic tortilla chips for the "Better For You" Food Group.
Quiet Integrity: High Quality, Delivered at a Real Value
According to David Silver, co-founder and President, the core of Truco/OTB success lies in the integrity and discipline of the Truco team, whose culture permeates the Brand and everything they do. "A Brand is not just what you eat. It's a set of promises," Silver explains. "Brand building is like raising kids, and everyone associated with Truco is a parent. So from top to bottom, we surround ourselves with people like us — people who are inspired by improvement, and who take personal ownership in their piece of the pie. Discipline, courage, integrity, honesty, intelligence" — he lifts a bag of Premium Rounds and shakes it slightly — "if we didn't have these things, this product wouldn't taste the same. It just wouldn't."
About Truco Enterprises
Truco Enterprises is a company in which ideas and business strategies are always fresh. By forging an innovative partnership with Brinker International and licensing On The Border® brand name retail products, Truco Enterprises has created a unique virtual platform that supports manufacturing, distribution, and sales of a range of Southwest/Mexican cuisine flavor options spanning six categories: salty snacks, dips, salsa, drink mix, soups, and frozen foods. Today, Truco markets and distributes its premium-branded products internationally. The company is headquartered in Dallas, Texas. For more information, visit http://www.truco.com.
LINKS TO PRINTABLE, HI-RESOLUTION IMAGES:
Dave Silver, Truco President of with OTB Products
http://mdvccreative.com/TRUCO/TRUCO_SILVER_SM.jpg
LINKS TO SMALL, WEB_FRIENDLY IMAGES:
Dave Silver, Truco President of with OTB Products
http://mdvccreative.com/TRUCO/TRUCO_SILVER_LRG.jpg
CONTACT:
Molly DeVoss
MDVC Creative, Inc.
121 Payne Street
Dallas, TX 75207
molly @ mdvccreative.com
214.742.6382, ext. 17
# # #