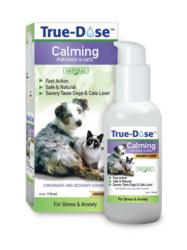 Saint Louis, Missouri (PRWEB) December 31, 2012
Hurricane Sandy was one of the worst hurricanes in U.S. history. While this storm left millions of people without power and displaced thousands from their homes, it also left pets in the same horrible situation. In the wake of the storm, True-Dose sent its Calming Treatment to shelters in New York and New Jersey to help displaced pets handle their high stress levels.
It is yet unclear how many thousands of pets were lost or displaced during the hurricane, but about 15 million dogs were in Hurricane Sandy's path, according to the American Humane Association. After the storm, many pets were removed from damaged shelters and disaster areas and placed into temporary shelters, like gyms, community centers and foster homes. In addition, pets who remained with their owners dealt with huge amounts of confusion and stress during the storm and subsequent rebuilds.
True-Dose Pet Products was proud to be to contribute cases of our Calming Treatment to shelters in New York and New Jersey, whose animals were facing the effects of Hurricane Sandy. These included:

Jersey Animal Coalition: 298 Walton Avenue, South Orange, New Jersey
Animal Life Savers, Inc.: Po Box 12, Palisades Park, New Jersey
Animal Rescue R Us: 51 Autumn St., Lodi, New Jersey
Helping Every Animal Live Society, Inc.: 295 Main Street Unit 10, Lodi, New Jersey
Anarchy Animal Rescue: 25 Woodcutters Lane, Staten Island, New York
Westchester Humane Society: 7 Harrison Avenue, Harrison, New York
After the Hurricane shelters and animals rescue groups did amazing work saving pets from disaster areas and setting up temporary shelters for thousands of animals.
About Our Calming Treatment
Stress, travel, unfamiliar guests in the house, being separated from their owners, loud noises like thunder or fireworks, or even from sensing their owner's mood swings can affect how stressed a pet Because are sensitive to their physical and emotional environment, they may act out in stressful situation. True Dose Calming, which includes chamomile, valerian, and ginger extracts, is designed to help lower your pet's anxiety levels in a natural way.
For more information and a video about True-Dose Calming Treatment, visit our website: http://truedosepets.com/products/calming/
About True-Dose
True-Dose uses patented technology to provide your pet with a higher level of quality in nutritional and functional supplements. Our supplements are manufactured at human-quality, pharmaceutical-grade levels, following the same strict testing and quality standards mandated by the FDA for state of the art pharmaceutical product manufacturing. True-Dose is an industry leader in maintaining standards to ensure the quality and safety pets deserve.
True-Dose has been clinically proven to have a faster absorption rate and higher peak concentration than tablets and chewables in a head-to-head, crossover study conducted by the Oklahoma State University Veterinary Animal Science and Research departments.
For more information about True-Dose and its products, please call us at 877-447-7710, or visit our website: http://truedosepets.com/.