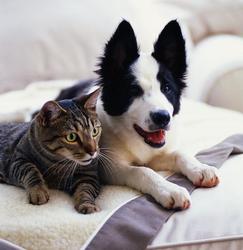 Perceptions and Attitudes of Pet Owners: The Impact of the Bond
Seattle, WA (Vocus) August 9, 2010
Despite the economic downturn, spending on pets continues to increase, and veterinary care is at the top of the list. Pet owners are looking for ways to ease the financial burden of high veterinary bills, and are increasingly turning to pet insurance. Trupanion, a pet insurance company, has doubled in size each year for the last three years, as many pet owners start seeing pet health coverage as a necessity rather than a perk. Pet owners are looking for a simple plan that covers everything – accident, illness, medication, and lab work – and are finding it at Trupanion.
Pet industry spending grew 4.63% between 2008 and 2009 and is expected to grow another 5.53% in 2010, according to a report by the American Pet Products Association, showing that pet owners are still increasing their spending in categories like food, supplies, grooming, boarding, and veterinary care.
However, a report released by the Commerce Department Tuesday showed flat personal spending in June and the weakest income in nine months. A 9.5% unemployment rate adds to the lack of disposable income, and those who are employed are not making any more than they did last year, according to the report.
Yet, a study by BNResearch titled "Perceptions and Attitudes of Pet Owners: The Impact of the Bond" showed that 76% of pet owners would spend any amount to keep their pet healthy, and 52% of pet owners would always do what a vet recommends, regardless of cost. It seems as if pet owners are shelling out more for their pets than for themselves.
"In tough economic times, pet owners are searching for ways to bridge the gap between the increasing costs of quality pet care and their ability to pay, particularly when an unexpected major illness or injury occurs," says Howard Rubin, Chief Operating Officer at Trupanion and founding CEO of the National Commission on Veterinary Economic Issues. "It decreases the financial strain and emotional stress a pet owner feels if the unthinkable happens."
According to the APPA, dog owners spend an average of $219 on veterinary visits annually and cat owners spend an average of $175. Veterinary care is the second highest spending category behind food, with $12.04 billion spent in 2009.
Pet owners make up a majority of the population, with 62% of U.S. households owning a pet. If they continue to spend as they have been, this could be good news for the economy.
About Trupanion™
Trupanion™ pet insurance offers cat insurance and dog insurance in the United States and Canada. Trupanion™ is self-underwritten by the American Pet Insurance Company, allowing Trupanion™ to offer a simple, customizable pet insurance policy with no payout limits and 90% coverage of veterinary bills. Enrolled pets receive lifetime coverage for diagnostic tests, surgeries, and medications if they get sick or are injured, with no incident, annual or lifetime limit. Trupanion's mission is to deliver fast, simple and user-friendly financial support to pet owners. For more information about Trupanion™, call 800-569-7913 or visit http://www.TrupanionPetInsurance.com.
About the North American Pet Health Insurance Association
Trupanion™ is a founding member of the North American Pet Health Insurance Association (NAPHIA). Founded in 2007, the North American Pet Health Insurance Association is committed to educating and promoting the values and benefits of quality pet health insurance to North American pet owners, the general public, and the veterinary community. As an association, we are committed to high standards and transparency in all of our actions and products. To learn more, visit the North American Pet Health Insurance Association website at http://www.naphia.org.
###