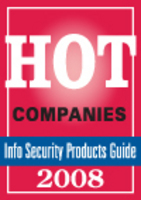 We are delighted to be selected as a 2008 Hot Company Finalist
Santa Barbara, Calif. (PRWEB) November 13, 2007
Truston, a provider of award-winning online services for identity theft protection and consumer credit management, announced that it has been named a 2008 Hot Companies finalist by Silicon Valley Communications.
Truston was selected after a global analysis of information technology vendors around the world. Truston was chosen based on the "4Ps" selection criteria--Products, People, Performance, and Potential.
The 2008 Hot Companies analysis encompassed companies in all areas of information technologies including security, wireless, storage, networking, software and communications.
The Hot Companies 2008 evaluation process also assessed candidates for entrepreneurial spirit, seasoned executives with relevant experience, clear understanding of their IT market segment, products and solutions that are positioned to take advantage of the emerging market opportunities, well developed revenue-growth model and clearly planned expansion strategies.
The 2008 Hot Companies winners will be announced and honored at the 2008 Executive Leadership Summit hosted by Technosium at the Santa Clara Convention Center located in Silicon Valley, California, on January 27-29, 2008. Other finalists include Securent, Inc., DataDirect Networks, nCircle Network Security and Entrust.
The CEOs of finalists will be presenting their company's 4Ps criteria to an audience of leading entrepreneurs, IT companies, venture capitalists, corporate strategists and global press. To see the complete list of finalists please visit http://www.technosium.com/hotcompanies/.
"We are delighted to be selected as a 2008 Hot Company Finalist," said Tom Fragala, Truston's founder and Chief Executive Officer. "This further validates our status as a provider of unique, valuable services helping financial services companies and affinity marketers offer their customers and members better tools for identity theft protection and improving their credit."
About Truston
Truston is dedicated to protecting people from identity theft and improving their credit without putting their personal information at risk. The company offers its services direct to consumers via its MyTruston service. Truston also has a white-label partner-ready web service for membership marketing companies, banks, credit unions, and credit card companies. Truston's consumer direct service was awarded 4 out of 5 stars from PC Magazine in 2007. For more information, visit http://www.mytruston.com.
Contact:
Tom Fragala
Truston
+1 (800) 960 5512
###