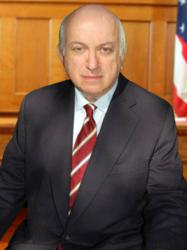 New York, NY (PRWEB) March 18, 2013
March 6th, 2013 John F. Lang addressed a gathering of attorneys at the New York City Bar Association Center for Continuing Legal Education, in a program co-sponsored by the City Bar and LawReviewCle, which had invited Mr. Lang to speak. The subject was "Everything You Ever Wanted to Know about Litigating in Probate Court." Mr. Lang's presentation, which was streamed live over the Internet, concerned Discovery and Motion Practice, Mediation in Estate Litigation, and Tax Implications of Settlements of Probate Litigation.
With a smile on his face, Mr. Lang said to the attendees: "It would take me a little longer than 90 minutes to tell you everything that you ever wanted to know about probate litigation, but with a little bit of luck I hope that in the time allotted I can share with you some of what I have learned in 20 years of litigating trust and estate cases."
Other Recent and Upcoming Speaking Engagements
Although maintaining an active practice, John Lang enjoys sharing his knowledge and experience with fellow practitioners. On November 30, 2012, at the Harvard Club in New York City, Mr. Lang made a presentation on trial technique to a gathering of trial attorneys at the Litigation Counsel of America's Renaissance Symposium VI. Mr. Lang is a Fellow of the Litigation Counsel of America, a trial lawyers honorary society. On April 8, 2013, as a faculty member of Lawline.com, Mr. Lang will be presenting a course entitled: "Winning the Tough Case by Embracing the Negative." The course will be streamed live over the Internet and will then be available on demand through Lawline.com. The course may be something of a change of pace for lawline.com, as John Lang will reveal one of the "secrets" of his success in some particularly difficult cases: his application of an Asian martial arts principle to courtroom battles.
About John F. Lang
John F. Lang is a highly experienced litigation attorney, who has tried dozens of civil and criminal cases to verdict before state and federal juries. Mr. Lang's law firm, Law Offices of John F. Lang, focuses mainly on litigation involving will contests and other disputes among beneficiaries and fiduciaries of trusts and estates.
After service in Vietnam with the U.S Marine Corps, Mr. Lang's legal career began at the N. Y. County District Attorney's Office (Senior Trial Attorney, Major Felony Program; Deputy Bureau Chief, Frauds Bureau) and continued as a trial attorney with the N. Y. S. Attorney General's Office (Chief Assistant to Special Prosecutor - Official Corruption, Special Prosecutions Bureau). In 1980, Mr. Lang went into private practice with the firm of Phillips Lytle, where his focus was banking litigation. Mr. Lang's passion for estate litigation began over 20 years ago, when he successfully tried a forged will codicil case in before a jury in Queens County Surrogate's Court. More recently, he was a partner for 18 years in the firm of Loeb & Loeb LLP, where he handled trust and estate litigation, as well as commercial, tax, and white collar cases.
John Lang is a graduate of Fordham Law School and is admitted to practice in New York State and before the United States Supreme Court, the United States Tax Court, and various other federal district and appellate courts. He is the author of a book on depositions, The Executive's Guide to Depositions (2008). Mr. Lang's distinctions include ratings of "AV Preeminent" from Martindale (2013), "Superb" from Avvo (2013), "Super Lawyer" (2008) from Thomson Reuters, listing in Worldwide Who's Who Registry for Executives, Professionals and Entrepreneurs, and selection by The American Society of Legal Advocates as one of the "Top 100 Trusts and Estates Lawyers" in New York State. Mr. Lang is also known for his child advocacy pro bono work with Children's Rights and the Children's Aid Society. He serves on the International Litigation Committee of the American Bar Association and the Estate Litigation Committee of the New York State Bar Association.
About Law Offices of John F. Lang
Law Offices of John F. Lang is a midtown New York City litigation boutique that offers services in the areas of domestic and international commercial and white collar litigation, as well as corporate representation. As regards its main practice area, probate litigation, Mr. Lang says that: "The firm's approach is to offer large-firm quality, small-firm attentiveness, and cost-conscious representation. We strive to provide concierge-level service to our trust and estate litigation clients."
For more information about John F. Lang and his legal team, please visit his firm's website at http://www.attorneylang.com. You may also contact John directly at (212) 300-0646 or john(dot)lang(at)attorneylang(dot)com.