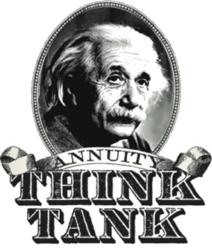 "The Truth About Fixed Indexed Annuities" Video Goes Viral
(PRWEB) December 13, 2011
Annuity Think Tank's video, "The Truth about Fixed Indexed Annuities" goes viral on youtube with over 37,000 views. The humorous annuity video was created using animation from Xtranormal. The annuity video is 4 minutes long and features 2 animated financial planners discussing their issues. One of the planners is frustrated that his clients keep losing money. The other financial advisor educates the frustrated advisor on the importance of index annuities and the fact that none of her clients have lost money in 2008.
As retirement income topics become mainstream issues with the baby boomers entering retirement with insufficient savings, annuities will continue to be at the forefront of income vehicles. Videos like "The Truth About Fixed Indexed Annuities" help educate by bringing both humor and unbiased consumer instruction on annuity significance. As more baby boomers and retirees turn to the internet for advice and tutelage, videos will play a crucial role going forward. Currently, the Annuity Think Tank Youtube channel has 75 annuity videos ranging from annuity humor to in depth annuity case studies. Finally, Annuity Think Tank is always looking for new videos ideas.
About Annuity Think Tank
Annuity Think Tank's vision is to be the first place advisors and consumers come to for innovative annuity solutions, unbiased annuity education, annuity research, and the most comprehensive annuity information on the web. Consumers, if you are interested in learning more about your current annuity, a new annuity, or basic to advanced annuity concepts, please visit the consumer site, Theannuitythinktank.com, for more information. Advisors and financial professionals, please visit our site designed for you at Annuitythinktank.com. For further questions contact us toll free at (855)888-6494 or email us at info(at)annuitythinktank(dot)com. We appreciate any and all feedback including new video ideas, blogs, and annuity concepts.
###