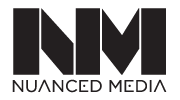 Tucson, AZ (PRWEB) March 06, 2013
Some of the websites Nuanced Media has been adding their information to the following directories: Yellow Pagecity, WhitePages and Where-to application.
Business management, in today's society, compromises store management and online presence. With millions of users every day, the internet has turned from a fad into a necessity. Each of these directories allows the companies information to be easily accessible.
Businesses all over the world can spread their brand while targeting potential consumers. An Important factor for customers is their ability to easily find the product or service they are searching for.
The fastest way to promote a company, while also increasing both SEO and revenue, is to advertise a company through online directories.
Yellow Page City is the online version of the widely popular Yellow Pages directory. Through this directory, users can search by category, or business name. On Nuanced Media page, the customer can find the Facebook, Twitter, Contact Us page, home page and more. Another cool feature of this directory is that it allows for video advertisements. Nuanced has their YouTube video linked to the Yellow Page directory page. The categories each company is linked to provide their users with the ability to search for the specific type of media or technology based company they want.
White Pages is similar to Yellow pages but the overall layout is vastly different. While Yellow Page City has a lot of influential type of material, White Pages lays out the information on the left while the map of the business is on the right. They highlight the store hours and also include the different social media outlets of the company.
The Where To application for Smartphones utilizes an easy to read, quick, company description and mapping. Also, it provides a detailed description of the store hours the business will be open, email for contacting, address, website and social media sources.
About Nuanced Media
Nuanced Media is a full service Tucson web design and Tucson marketing firm. They can be found at 301 N Norton Ave. Tucson, Arizona 85719 and can be reached at 520.261.7764