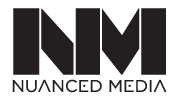 (PRWEB) March 02, 2013
Some of the websites Nuanced Media has been adding their information to the following directories: Avantar, Best of the Web, and City Squares.
Business management, in today's society, compromises store management and online presence. With millions of users every day, the internet has turned from a fad into a necessity. Each of these directories allows the companies information to be easily accessible.
Businesses all over the world can spread their brand while targeting potential consumers. An Important factor for customers is their ability to easily find the product or service they are searching for.
Avantar Yellow Pages resembles Air Yell as an application with the layout. Nuanced Media's logo, phone number and address are located at the top of the app with a large map underneath. The Avantar app has a widget to call Nuanced Media, find directions, or check out the pricing.
Best of the Web maximizes the company's target audience based on their city, and business categories. If the company offers a coupon, that will be located directly under the address. Another appealing feature is that Best of the Web offers dining, lodging, and food options near the company.
CitySquares takes advantage of Nuanced Media's video to become the centerfold of their marketing efforts. City Squares sticks to its motto "Local businesses are what make our neighborhoods unique". Their full service video marketing platform allows smaller businesses to promote their brand in an innovative way. CitySquares has what it takes to take a company to the next level with their rapidly increasing video business directory.
About Nuanced Media
Nuanced Media is a full service Tucson web design and Tucson marketing firm. They can be found at 301 N Norton Ave. Tucson, Arizona 85719 and can be reached at 520.261.7764