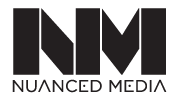 Tucson, AZ (PRWEB) March 10, 2013
Some of the websites Nuanced Media has been adding their information to the following directories: Alike, Switchboard, and Yahoo.
Business management, in today's society, compromises store management and online presence. With millions of users every day, the internet has turned from a fad into a necessity. Each of these directories allows the companies information to be easily accessible.
Businesses all over the world can spread their brand while targeting potential consumers. An important factor for customers is their ability to easily find the product or service they are searching for.
The fastest way to promote a company, while also increasing both SEO and revenue, is to advertise a company through online directories.
8coupons primarily focuses on up to date coupons the company currently offers. The recent coupon consumes most of the attention on the screen. The customers then can access the company's services, location, phone number, hours of business, website email and more. 8coupons utilizes Livingsocial, Groupon and more than 2,000 other coupon sources to find a the best deals.
The Airyell app is a unique directory thousands of companies utilize. At first glance, the application provides a mapping of the company's location with the logo in the top right hand corner and important information on the left. Anyone with a Smartphone can have unlimited access to local businesses that cater to their wants or needs. In a very user friendly design, Airyell also allows users to like the company and even share it. A true must have for any business owner.
American Towns browses local towns to find businesses that accompany the services and products the company is marketing. For Nuanced Media the specific categories are Tucson marketing and Tucson advertising . Without scrolling, the user can find all of the key information they may inquire about. This includes the specific location, photos, hours of operation, website URL, social media profiles, videos, and a short summary of the company's background.
About Nuanced Media
Nuanced Media is a full service Tucson web design and Tucson marketing firm. They can be found at 301 N Norton Ave. Tucson, Arizona 85719 and can be reached at 520.261.7764