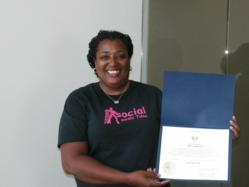 I'm grateful that Mayor Bartlett signed the proclamation to include Tulsa as one of the official cities, celebrating Social Media Day. This is the icing on the proverbial cake for our third annual #SMDAY event." Cheryl Lawson
Tulsa, Ok (PRWEB) June 28, 2012
Social Media Tulsa, the area's most active social media group, announced today that Mayor Dewey Bartlett has proclaimed June 30, 2012, Social Media Day in Tulsa.
Social Media Day is a global celebration of the technological advancements that enable everyone to connect with real-time information, communicate, and have their voices heard. Mashable launched the event in 2010 as a way to recognize the digital revolution.
The Tulsa proclamation is a testament to the growing importance of social media in city government, businesses, and non-profit organizations. In a recent study by the University of Illinois at Chicago, city governments were ranked on their use of social media, Tulsa ranked number 22. The research was based on content analysis of government websites in the 75 largest U.S. cities.
2012 has been a busy year for Social Media Tulsa (#SMTulsa). The second annual Social Media Tulsa conference was held in March, a Turn Tulsa Pink Meetup occurred in April, and a meetup during the Tulsa Shock Social Saturday WNBA game last weekend. The proclamation is another milestone in this growing social media community in Tulsa.
"I am very excited that we're celebrating the third Social Media Day in Tulsa," said Cheryl Lawson of Party Aficionado and Founder of Social Media Tulsa. "It has been a passion of mine to grow Tulsa's social media community to be one of shared knowledge and experiences, inclusion, and support for local businesses."
"I'm grateful that Mayor Bartlett signed the proclamation to include Tulsa as one of the official cities, celebrating Social Media Day. This is the icing on the proverbial cake for our third annual Social Media Day event."
To celebrate Social Media Day 2012 Tulsa's most active social media group, will gather at Andolini's Pizzeria. The event is at capacity, but others can follow the Tweets via the #SMTulsa and #SMDay hashtags.
About Social Media Tulsa
Social Media Tulsa is the area's most active social media group. #SMTulsa has rapidly become the place for thought leaders and newbies alike to share social media's best practices and to go beyond the technology to create face to face connections. It all began with Social Media Day Tulsa 2010 at Fat Guys Burger Bar in the historic Greenwood district. Social Media Tulsa holds monthly Meetups, Tweetups, and participates in several community projects. To learn more, visit SocialMediaTulsa.org
About Party Aficionado
Party Aficionado, LLC is a leading social marketing firm specializing in event marketing, social media marketing, internet marketing, and PR. To learn more, visit Partyaficionado.com.