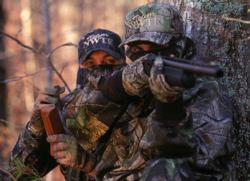 Birmingham, Michigan (PRWEB) April 11, 2013
Some states already have their hunters out in the field trying to call in that wily and elusive turkey, while many states are just starting their spring turkey-hunting season this weekend and through the next week. OutdoorRoadmap.com is the place for the latest tips to prepare for the hunt, including online hunter safety training that will teach safe and successful hunting.
One of the OutdoorRoadmap.com feature stories this week is preparing for opening day of Turkey hunting season with ten tips before you hit the field. Here are the ten tips. For the complete article of prep tips and other how to and gear articles for spring turkey hunting, go to OutdoorRoadmap.com
1. Work with the local experts and ask the right questions
2. Scout the property
3. Prep your equipment
4. Camo-up
5. Practice calling
6. Load the turkey vest
7. Take a hunter safety class online in preparation for your license purchase
8. Buy the license and understand the laws
9. Join National Wild Turkey Foundation to give back
10. Have fun
Outdoor Roadmap offers online hunter safety training that is approved for use in Kentucky, Texas, Florida, Connecticut and West Virginia. Here are opening days for these states:

Florida turkey hunting is underway
Texas turkey hunting is underway in some counties but the season opens for Texas eastern turkey hunting April 15
Kentucky turkey hunting starts April 13
West Virginia turkey hunting season starts April 22
Connecticut turkey hunting season starts April 22
Online hunting safety training is available from Outdoor Roadmap, online 24/7 with the lowest cost option for a narrated course.
For more tips and information on spring Turkey hunting, or to get Hunter Safety training completed online visit the turkey hunting section of the how to website http://www.OutdoorRoadmap.com.