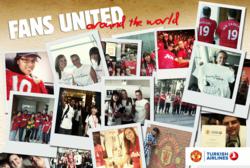 The flight, the Crew, the Fans United winners, Manchester United, everything combined was the ultimate experience!
Istanbul, Turkey (PRWEB) January 07, 2013
Europe's best airline; Turkish Airlines, saluted Manchester United's new Premiership season by taking 19 lucky Manchester United fans, from around the world, to the city of Manchester. These lucky Red Devils benefited from various entertainments, such as watching the current season's first home game live at Old Trafford. For the 19 lucky fans, it was not just about "watching United live," it was an unforgettable journey.
The story began with Turkish Airlines launching the "Fans United" contest on its international Facebook page. The goal was to help a few lucky fans experience Manchester United culture in its home, the city of Manchester. The crowning point of the campaign was bringing those 19 fans to watch the world's most popular football team live in its first home game of the 2012/13 season against Fulham at Old Trafford.
One of the luckiest fans from around the world, Henk Van Zadelhoff (24) from Holland could not describe his feelings about this extraordinary experience:
"Thanks again for this trip! It was a dream came true! I have been to United before, but nothing can be compared to this trip! The flight, the Crew, the Fans United winners, Manchester United, everything combined was the ultimate experience!!! I will remember it forever!"
First stop was Old Trafford ­– a football temple for many United fans – where the group was treated to a private, behind-the-scenes tour. This was an experience with detailed stops such as players' dressing room and dug-out, as well as access to the club's award-winning museum. On August 24th, the winners travelled to Carrington where they were given the rare opportunity of watching the first-team of Manchester United exercising and warming up before tactical training by Sir Alex Ferguson. They also had the privilege to take autographs and talk with famous team members such as Rio Ferdinand and Javier "Chicarito" Hernandez.
The group was first treated to lunch at the Old Trafford's Red Cafe, followed by visits to some of Manchester's other impressive sights, before being treated to dinner at one of the city's finest restaurants. But the real highlight of the trip arrived on Saturday, when the group witnessed United's thrilling 3-2 win over Fulham from some of the best seats in Old Trafford's East Stand. It was the perfect way to cap an incredible few days in an experience that one winner described as "a dream come true."
At the end of this 4 months campaign, the Fans United application reached out to over 322 million people globally to give 19 lucky Red Devils fans an unforgettable Manchester lifestyle experience.
You can see the official video on the Turkish Airlines Youtube channel.
About Turkish Airlines:
Established in 1933 with a fleet of only five airplanes, Star Alliance member, Turkish Airlines is today a four star airline with a fleet of 179 aircraft (passenger and cargo) flying to 191 cities around the world, comprised of 40 domestic and 151 international destinations. One of the fastest growing airline companies, Turkish Airlines has received several "Passengers Choice Awards" from the consumer ranking group, Skytrax. Based on 2011 results, Turkish Airlines has been chosen as the winner in 3 categories, "Best Airline Europe", "Best Premium Economy Seats" for its Comfort Class seats and "Best Airline Southern Europe". It has also received awards for its catering and holds a coveted 4-star designation, putting the airline in a small group of top quality carriers. Turkish Airlines was also given the Skytrax designation of "World's Best Economy Class On-board Catering" in 2010, and Skyscanner's "Best On-board Food 2011". Long haul Business Class passengers also enjoy the Flying Chef service on-board.