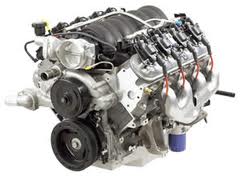 The CrateEnginesforSale.com company has recently announced a new coverage program for all of its custom built motors.
Hartford, CT (PRWEB) March 06, 2013
Replacement vehicle motors are typically provided by mechanics and warranty service companies. The CrateEnginesforSale.com company is now supplying turn key Chevy crate engines that can be used for installations inside GM vehicles. These motors include V6 and V8 sizes that are part of the Generation III, IV and Vortec family. Immediate processing is available when these engines are sold to customers online at http://crateenginesforsale.com/chevy/chevy-vortec-5300-engine.
General Motors was one of the first companies to provide crate engines for direct sale. These motors have helped project car builders and vehicle owners find performance motors without going through dealerships. One of the drawbacks to purchasing these units is the high costs that are usually attached.
A brand new replacement crate motor can exceed the value of a used vehicle. The turn key motors that are now provided for sale online are reduced in price to provide better options for customers to reduce purchase prices.
The ease of installation is one reason that crate engines have become a popular version to replace a vehicle. All of these engines are easy to install although warranty protection does vary between sellers online and offline. The CrateEnginesforSale.com company has recently announced a new coverage program for all of its custom built motors. This program is now available for all customers to access after purchase.
The terms of the program are provided when quotes are generated or telephone assistance is provided. The time frame of this program provides 36 months for customers to receive assistance after purchase.
The addition of the Chevrolet turn key motors has been equally matched by recent Ford engine increases. The 440 crate engine from Ford has been added for online sale. This announcement was made in a recent news release located at http://www.prweb.com/releases/460-crate-motor/crate-engines-ford/prweb10466184.htm. Additional increases in the Ford inventory are expected to be announced this year for customers.
To go with the new inventory increases, this company has launched a better way to distribute customer pricing online. The use of the new quote procedures online has resulted in faster and more accurate quotations. Updated engine information and price details are now distributed through this system as alternatives to telephone assistance.
About Crate Engines for Sale
The Crate Engines for Sale company sells and distributes custom built replacement motors in new and rebuilt condition. This company has created a large customer network due in part to its low pricing measures. The warranty protection attached with all sales completed by this company has been one of the recent incentives appreciated by customers. The Crate Engines for Sale company has hired some of the most experienced automotive industry specialists to take care of customer service. These professionals are used to operate the company toll-free number and answer online information requests.