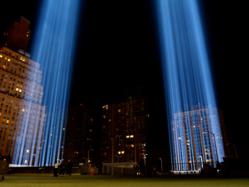 With this tribute, we can recognize everyone impacted by 9/11, including all those who continue to serve.
New York, NY (PRWEB) March 25, 2013
Today, Iraq war veteran Derek Coy kicked off a NYC campaign to build a permanent tribute in honor of all those impacted by 9/11-- the victims, families, first responders, and all the veterans of our current conflicts. Inspired by the 9/11 Tribute in Lights, Coy is building an energy efficient, sustainable installation that will shine every night of the year using laser technology.
Using the popular crowdfunding site Kickstarter to raise the start up costs, Coy plans to get the lights up as soon as Memorial Day if he is able to reach his goal by April 6.
Kickstarter is a funding platform that brings ambitious, innovative, and imaginative projects to life through the direct support of others. Over $500 million has been pledged by more than 3 million people, funding more than 35,000 creative projects.
"We said we'd never forget about 9/11, but so many people have forgotten about those who are still serving because of that day, especially our troops currently serving in Afghanistan," said Derek Coy, former Marine and Co-creator of the "Turn on the Lights" project. "We hope that when people see these lights, it helps them remember all those who still continue to feel the impact of that day."
The Lights are estimated to cost $200,000, to include everything from permits to installation. Using energy efficient lasers, the lights will be able to shine every night with the same energy needed to power two hairdryers.
"My father was a first responder," said Crystal Gajewski, Founder of Ski's Open Heart Foundation. "His health was seriously impacted by the 2900 hours he spent at ground zero. He passed away in 2011, but I work every day to make sure his service continues. I think this is a great way to honor those who continue to serve."
With 10 days to go, Coy is asking all Americans to pledge their support on Kickstarter.
Derek Coy served in the Marine Corps from 2004 to 2008 and is an Iraq war veteran. A Texas native, he moved to New York in 2010, received his Masters from the City College of New York (CCNY) and is a Development Associate at Iraq and Afghanistan Veterans of America (IAVA).