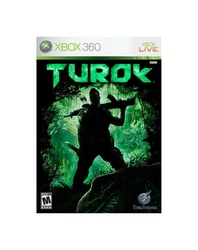 Turok was a huge initial project for a veteran group of game developers from diverse backgrounds, which included expertise from some of the industry's landmark games
BURBANK, Calif. (PRWEB) February 4, 2008
Turok, the epic, sci-fi first person shooter, provides an opportunity to interact with dinosaurs like never before. Turok is now available in North America for the Xbox 360(R) video game and entertainment system from Microsoft and PLAYSTATION(R)3 computer entertainment system. Published by Touchstone and developed by Propaganda Games, Turok is a unique and gritty first person shooter that immerses players into a world of dinosaurs.
Almost three years in development, Turok transports players to a dark, mysterious planet in the future. Players take on the role of Joseph Turok, a former black ops commando, now part of an elite special forces squad, known as Whiskey Company, which is on a mission to confront a war criminal - Turok's former mentor, Roland Kane. When their ship is shot down on the planet inhabited by Kane and his Mendel-Gruman Corporation soldiers, Turok must use his elite military training to elude Kane's well-trained army and the ravenous, unpredictable dinosaurs, huge insects and other massive creatures that populate the planet.
"Turok provides a pulse-pounding experience similar to a blockbuster action film while immersing players in a hostile world filled with visceral dinosaurs," said Craig Relyea, senior vice president of global marketing, Touchstone. "There is a strong legacy behind this franchise, but this is whole new Turok that will appeal to an even wider audience."
The Turok property, which is owned by Classic Media and has a legendary history among the game's target audience, is being brought back by Touchstone after a lengthy hiatus.
"Turok was a huge initial project for a veteran group of game developers from diverse backgrounds, which included expertise from some of the industry's landmark games," said Josh Holmes, vice president and general manager, Propaganda Games. "We're eager to witness the excitement of video game players as the game is distributed worldwide."
Turok has a robust online multiplayer feature with a variety of modes and maps for up to 16 players. Turok includes 10 multiplayer maps in total, including seven competitive maps and three cooperative-specific missions. Competitive multiplayer modes include Capture the Flag, Assault-style Capture the Flag, Deathmatch, Team Deathmatch and War Games, a special objective-based game mode. Turok's co-op feature allows up to four players to team up online in maps inspired by the single-player story but designed specifically for the co-op mode. Unique to Turok, and like the game's single-player campaign, the multiplayer modes include dinosaurs and large insects, which may attack any player and can be lured to attack opponents.
The story of Turok is conveyed through top Hollywood voice talent, including Timothy Olyphant, Powers Boothe, Ron Perlman, William Fichtner, Donnie Wahlberg and Gregory Norman Cruz as Joseph Turok.
Developed by Propaganda Games, Touchstone's development studio in Vancouver, British Columbia, Turok is rated M for Mature by the Entertainment Software Rating Board (ESRB) and is available in stores now for $59.99. A version of Turok for Windows-based PCs is scheduled for release this spring.
For more information about Turok, log on to http://www.turok.com.
TUROK TM & (C) Classic Media, Inc., an Entertainment Rights group company.