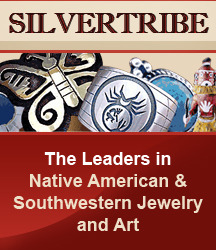 Proper cleaning and polishing will help keep your turquoise jewelry looking great for years to come.
Phoenix, AZ (PRWEB) July 30, 2012
Turquoise jewelry is expected to continue to be a hot trend this fall and SilverTribe is offering discounts on its entire lineup to make sure fashion enthusiasts are prepared for the most important fashion season of the year.
SilverTribe is the online leader in Native American jewelry and art, offering a massive selection of Southwest jewelry at the lowest prices available.
"Summer will be gone before we know it, and now is the time to look ahead if you want to be on top of the latest fashion trends of next season and get a great deal," said SilverTribe spokesman Chris Anderson. "Turquoise is in high demand this summer, and it's only going to increase this fall."
SilverTribe visitors will find a vast selection of multicolor jewelry that compliments the oranges, browns and sky blues of an autumn sunset while adding that crucial Southwestern fashion flair. Customers will find discounted items in every style to suit any price range.
To meet growing demand, the online retailer has expanded its collection of turquoise jewelry and Native American jewelry and always offers the latest styles as well as the most cherished classic designs. Whether customers are looking for edgy, modern styles or traditional designs made famous by the Navajo, Zuni and Hopi tribes, SilverTribe is the destination for those who want to find it all in one spot.
"The tribes of the Southwest have been producing and inspiring stunning examples of jewelry for generations," Anderson said. "Our collection features the amazing artistry and history that continues to inspire so many people every day."
From simple, yet elegant designs to expertly designed handcrafted pieced, SilverTribe carries the finest selection to ensure there's always something for anyone.
To learn more about the latest styles in Southwest jewelry, or to find a piece to add to any collection, visit http://www.silvertribe.com.