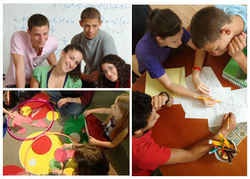 Klara cleverly combines a genuine concern and interest in children's education, with an ability to build and manage a successful franchise business
London, UK (PRWEB) March 19, 2008
MathRiders helps all students acquire a firm knowledge in maths. Lessons are held in small groups and provide specially developed learning materials designed to enhance logic skills and challenge thinking on all learning levels - even for more advanced students. The program also helps build better study habits, and boost personal achievement. Learning starts as early as 4 years old with Mathjogs, the junior program.
Since 2002, Klara Kiss has been extremely successful as the Hungarian Master Franchisor for Helen Doron Early English. She first began teaching the Helen Doron method in her bi-lingual kindergarten, where the parents immediately saw how well the children responded to the Helen Doron method and materials. Soon more and more children wanted to enroll, and from there Klara went on to build a booming franchise business. Today she has close to 70 Helen Doron Early English Learning Centres with almost 7,000 students, country-wide.
"Klara cleverly combines a genuine concern and interest in children's education, with an ability to build and manage a successful franchise business," comments Anne Gordon, VP of Business Development at the Helen Doron Group. "Klara introduced the Helen Doron Early English method to Hungary when it was virtually unknown, and has enjoyed fantastic growth throughout the country. MathRiders is an outstanding maths tutoring program and franchise opportunity that's gaining popularity on an international level. We know Klara is the right person to launch MathRiders in Hungary, and look forward to seeing great results."
Klara is definitely an entrepreneur with a nose for a good business opportunity, and has made an eager start with MathRiders by already opening 5 new learning centres. She's convinced it's the right program for Hungary. Traditionally and culturally, Hungarians are people with a high regard for learning, and Mathematics in particular. "I would recommend MathRiders to anyone as an excellent franchise opportunity," explains Klara. "MathRiders is a quality program that would work well for someone wishing to succeed in an education-related business that really benefits children." http://www.mathriders.com/franchisee-general.php?a8=1
MathRiders was developed by the internationally renowned Helen Doron Educational Group, in operation since 1985. They are a top quality hands-on educational franchise operation that personally stands behind every single franchisee. Helen Doron offers a comprehensive 24/7 global business and pedagogic support system, intensive training, updates, seminars, and much, much more. http://www.mathriders.com/hd-group.php?a2=1
MathRiders and Mathjogs maths tutoring for children have also been introduced into Germany, Portugal, Israel, and most recently the United Kingdom. Created by experts in child development and mathematics, MathRiders helps children develop their own natural abilities in Maths though a comprehensive program that includes small study groups, individual one-on-one learning and honest self-assessment. It is a welcome addition to the growing line of Helen Doron Educational products available worldwide.
The Helen Doron Educational Group serves babies, toddlers, children and teens around the world through our many unique enrichment programs that provide quality, age-appropriate, learning enhancement and social development. We have been creating exciting and enjoyable learning programs since 1985, designed to bring out the very best in each individual child through encouragement and fun, while upholding high standards of academic excellence.
For more information visit: http://www.mathriders.com
Or contact: Nathan Levy, Sales Manager MathRiders
nathan(at)helendoron.com
Tel: +972 (0)4- 9027905
Cell: +972 -54- 3191153
More quality Helen Doron educational products:
http://www.helendoron.com
http://www.supernature1.com
http://www.ready-steady-move.com
###