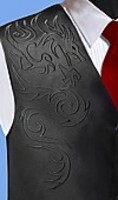 Tuxedosonline.com is a tremendous resource for men's formal wear and continues to be the leader in this very competitive industry
North Hollywood, CA (PRWEB) March 30, 2009
With the launch of their new embroidered prom tuxedos and prom vests Prom Tuxedos award-winning tuxedo Manufacturer Retailer TuxedosOnline.com has revolutionized the way the world buys tuxedos by removing the middleman and making beautifully-crafted, stylish tuxedos affordable.
The introduction of MODA allows the company to offer tuxedos for purchase for as low as the price of renting, and because TuxedosOnline.com ships all over the country, buying a tuxedo in America will be forever revolutionized. Recently, as labor costs have increased, the cost of a typical rental tuxedo has also gone up to more then $100. Unlike European markets, most people in the U.S. rent their tuxedos because the average package costs nearly $500. Now, MODA formalwear is able to present the $99 tuxedo package. Customers can buy the coat, pants, shirt and accessories for less that $100.
Vice President of http://www.mywedding.com Larnie Bryant testifies to the quality and value-savings that TuxedosOnline.com provides its customers. "Tuxedosonline.com is a tremendous resource for men's formal wear and continues to be the leader in this very competitive industry," he says. "Their continuing success is a testimony to incredible customer service meeting a proven product line."
Tuxedosonline.com sells all items associated with formalwear, but the MODA label is only limited to Men's tuxedos. Tuxedo suits come in both wool and man-made material and are available in boys tuxedo packages. Accessories include vests, cummerbunds, bow ties, neckties and cufflinks and studs, tuxedo shoes and tuxedo shirts of all kinds.
From wedding tuxedos to prom tuxedos, the MODA line offers clients a wide array of styles for a variety of occasions. Basic packages come with a suit, shirt, accessories, free shipping and can be tailored to specific designs, sizes, and cuts. Clients have nothing to loose as TuxedosOnline.com also offers a 30-day money back guarantee.
Additional accessories are available for purchase with basic MODA packages; TuxedosOnline.com sells a range of striking studs and cufflinks, bow ties, vests, walking sticks, ties, gloves, hats, suspenders, Zoot suit chains, spats and more.
About:
TuxedosOnline.com was named "Best of the Web" by USA: Tuxedos for 2008. The web-based vendor is the internet superstore for all kinds of men's formal wear tuxedo shirts, tuxedo vests and tuxedo uniforms.
TuxedosOnline.com is one of the oldest companies to sell tuxedos on the internet. They are highly rated on bizrate.com as well as ebay and other internet rating services. Although the tuxedo rental industry has reported declines in the amount of rentals for the past few years, Tuxedosonline.com has grown over 40% a year for the last three years.
For the full range of tuxedos, accessories, shoes, and shirts, as well as the entire MODA Formalwear line, visit tuxedos or call (818) 765-9479 or (888) 968-4TUX.
###