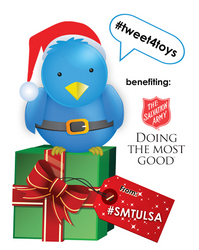 In 2009, The Tulsa Salvation Army had over 3,000 forgotten angels
Tulsa, OK (PRWEB) December 2, 2010
Every year The Salvation Army helps thousands of families during the holidays. Thanks to the generosity of so many Tulsans, most of the angels are adopted from the Angel Trees each year, but there are always some that do not get their holiday wishes fulfilled.
"In 2009, The Tulsa Salvation Army had over 3,000 forgotten angels," said Lindsay Sparks, E-Marketing Director for the Salvation Army in Tulsa. "When it's time to give out gifts the forgotten angels are the ones still left on the trees. This year, Social Media Tulsa's #Tweet4Toys will collect toys that will be used to insure every forgotten angel receives something special this Christmas."
The website, designed by Tulsa's GuRuStu Group, was launched on Twitter via a press conference style chat. Tweet4toys.org's features are as cutting edge as the campaign itself. People who include #Tweet4toys in their Tweets will see their profile photo appear on the site. A live counter will show how many times #tweet4toys has been tweeted, and if the tweet includes a photo, it will be included on the home page as well.
"We believe even the smallest gesture of kindness toward a child will in turn benefit the world. This is why the GuRuStu Group felt compelled to donate its creative services to the Tweet4Toys campaign. We wanted to provide a website to serve as a central location for everyone to see all activity taking place with the toy drive. The Tweet4Toys' website uses custom code to integrate the Twitter API and popular image hosting services within a WordPress powered site." -- Stuart McDaniel, Founder and Managing Partner, The GuRuStu Group
Local businesses, families, and individuals can use the hashtag #Tweet4Toys to show their support in this toy drive. By sending out a tweet about participating, recruiting, or dropping off toys for #Tweet4Toys, Twitter users are helping spread the message about this fun opportunity.
Tulsa has a strong social media and blogging presence. It is unique, tight,and city focused. According to Twellow, an online Twitter directory, there are over 9,000 Tulsa related Twitter profiles. Social Media Tulsa and The Salvation Army believe it is time to take that passion and apply it to do great work for those in the community. Find out how to spread the word and where to drop off your toys.
If you are not in Tulsa and you still want to support #Tweet4toys, you can still participate via mobile giving. To make a $10 one-time gift, text the words "Joy Toy" to 85944. (Include the space)
The popular Twitter tips and tools account, @TweetSmarter posted this tweet to their 220,337 followers: "Tweet4Toys helps the Salvation Army help kids: http://j.mp/fMUvtu "
"Tap11 partnered with Social Media Tulsa and The Salvation Army Tulsa to track all tweets containing the #Tweet4Toys hashtag. With Tap11's Buzz Monitoring feature, we are able to see how many times the hashtag is mentioned, who the key influencers are, and which tweets containing the hashtag are most impactful. This will provide the Tweet4Toys program with invaluable insight around their campaign." -- Adam Zbar, CEO Tap11
"Using Twitter for Social good is a great way to contribute to the community." -- Ruben Orozco, Founder Tweetfind
"During the December Social Media Tulsa meetup, attendees will fill the baskets for the forgotten angels," said Cheryl Lawson, founder and organizer of Social Media Tulsa. "Don't get caught up in the stress of Christmas, stop for second and give back — you will be glad you did. #Tweet4Toys is social media for social good."
"One lucky attendee of the December meetup will win a Zi8 digital camera provided by Kodak," added Lawson. "Join us as we make sure there are no forgotten angels in Tulsa this Christmas."
About Social Media Tulsa
It all began with Social Media Day Tulsa at Fat Guys Burger Bar in the historic Greenwood district. Social Media Tulsa is a community that allows its members to get together and talk about the impact of Social Media on business, news, entertainment, sports, non profit, and any other topics that need to be discussed. You don't have to be an expert to join. Social Media and social networking is new and growing and no one can claim to know it all. Collectively, we can share knowledge. To Learn More visit SocialMediaTulsa.org
Follow Social Media Tulsa on Twitter @SocMediaTulsa.
About Tulsa Salvation Army
The Salvation Army operates year-round programs throughout the Tulsa community with the goal of meeting human needs whenever and wherever possible, using proven methods. The Salvation Army ministers to the mental, spiritual, moral, and physical needs of individuals at the point of need, and at the time of need. Each program is developed to deliver special assistance to a population that otherwise has no resources. To learn more visit salarmytulsa.blogspot.com.
# # #