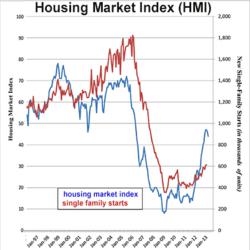 "As home owners and sellers become more assured that dollars spent on home renovations will hold their value, they are deciding to undertake projects to improve their comfort and quality of lifestyle at home." ~ Butch Sprenger
Twin Cities, Minnesota (PRWEB) March 22, 2013
New and existing Twin Cities home prices and sales are at their highest levels in years, according to a recent Metrostudy report. Housing inventories have plunged as home prices have stabilized throughout the Metro area and home sales have increased. Metrostudy is a national housing data and consulting firm that maintains an extensive residential construction database for the US housing market.
"New home construction is driving inventory up, however, not at the clip many home buyers want to see in order to capitalize on today's historic home affordability levels. The cost of building a Twin Cities home is so affordable right now, it is a good time to buy. However, the available inventory of existing homes to purchase is so low that some individuals are simply opting to stay and renovate their existing homes instead. If you love where you live it makes sense to renovate," says Butch Sprenger, owner of Destiny Homes.
While home builders seek lots to purchase and build on, there are currently 9 percent fewer vacant developed lots throughout the Twin Cities to choose from. "The recent uptick in new home demand has created a run on desirable vacant developed lots located throughout the metro," Ryan Jones, director of Metrostudy's Twin Cities division.
Twin Cities tight levels of available lot supply impact builders ability to obtain quality lots to build on that would help increase housing inventory. Lot numbers in the Metrostudy report are as follows:
1) The current number is 25,268 vacant developed lots
2) A decline of 9% compared to last year
3) The fourth quarter of 2012 saw the lowest supply number since late 2007
Lawrence Yun, chief economist of NAR commented on our housing inventory shortages and how they vary, from region to region. As housing inventories levels dip to a tipping point of concern, a strong message is sent to home builders to start building new homes. Twin Cities housing inventory levels are at a 10 year low.
Destiny Homes finds the following as highlights in the NAR report::

Housing inventory is up 9.6% to 1.94 million existing homes on the market for sale.
The U.S has a 4.7-month inventory supply at the current home sales pace, compared to 4.3 months in January.
January's numbers highlighted a pivotal point with the lowest housing supply since May 2005. Year-over-year, listed inventory is down 19.2%, compared to the 6.4-month supply from a year ago.
Total existing home sales were up 0.8% to a seasonally adjusted annual rate of 4.98 million completed home sales in February compared to January's 4.94 million. Existing single-family residential home sales rose 10.2% above the 4.52 million-unit level seen one-year prior.
New and existing home sales in February reached the highest level since the tax credit period of November 2009.
Job growth in the Twin Cities metro coupled with a historic low number of resale residential homes available for sale have fueled a significant increase in the inventory of newly constructed homes, according to February's Metrostudy report. According to Metrostudy's quarterly survey, the Twin Cities area started 1,344 new homes in 4Q12, up +57% from 4Q11, which had a mere 855 homes starts. "For the third straight quarter the Twin Cities housing market surpassed 1,000 new home starts for the quarter. This also marks the largest 4th quarter starts figure since 2007, piggybacking on the previous two quarters strong starts figure," said Ryan Jones, director of Metrostudy's Twin Cities division.
"Studying housing data tabulated for 2012, we see that annual Twin Cities home starts has outpaced the number of annual home closings. It is a clear indication that the housing industry is growing again and we can anticipate a slow but steadily increasing supply of new home inventory," stated Sprenger.
The Minneapolis Area Association of Realtors reported in The Skinny on March 18 that the Twin Cities housing inventory decreased 30.7% to 12,476. Combined with low inventory, low rates have been a prominent motivation for buyers. The same time one year ago, sellers weren't so sparse and there were 17,993 residential homes for sale.
Individuals who are considering a move to the Minneapolis / St Paul area and simply cannot find the home they want within the slim housing inventory, or who want to renovate an existing home, may reach Destiny Homes at 952-923-5706.