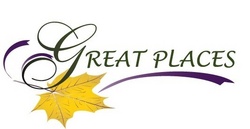 Twin Cities (PRWEB) December 30, 2008
Twin Cities (Business Wire EON) December 30, 2008 -- Although Baby Boomers are living longer and healthier lives, many are also facing unexpected challenges they are often ill equipped to handle -- dealing with aging parents. Of the more than 76,000,000 Baby Boomers, many are in a caregiving role to their aging parents. Most are unprepared for the cost, emotional toll, and health issues they face as caregivers.
http://www.greatplacesinc.com is the Internet resource for Baby Boomers, offering these useful products:
A senior housing directory. The 50-state directory has photos, lists of services, amenities, and video interviews with residents and customers. The senior housing options profiled include assisted living, age-restricted housing, nursing homes, in-home health care, adult day care, adult care, and more. http://www.greatplacesinc.com/senior_options.asp
Life Transitions Toolkit. The Toolkit is twelve chapters of advice and counsel written especially for Boomers. The Toolkit offers ideas for adapting to new family roles and addresses the financial and legal issues families often face as they solve aging problems. http://www.greatplacesinc.com/toolkit/care.aspx
A daily Blog (http://www.greatplacesinc.com/Blog) and monthly newsletters, loaded with news relating to senior housing, elderly care, medical breakthroughs, and humor.
http://www.greatplacesinc.com is the leading Internet resource for current, relevant, reliable advice, counseling the 76 million Baby Boomers who are increasingly responsible for their aging parents' care.
MULTIMEDIA GALLERY http://www.businesswire.com/cgi-bin/mmg.cgi?eid=5862131