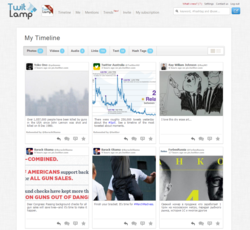 Twitter in Your Own Perspective
Riyadh, Saudi Arabia (PRWEB) March 27, 2013
Twitter users can now personalize their Twitter accounts to their hearts' desire, using the new website Twitlamp. Once the user has signed into this innovative site, founded by Turki ALTwijri and Saad AlQahtani, he or she will find a timeline that has been divided into easily accessible categories. These categories automatically update along with the user's Twitter timeline.
The growing popularity of Twitter is undeniable. While the website and app are simple to use, unless a user checks in every ten minutes, it is difficult to monitor the constant stream of updates. Twitlamp offers a solution to this problem, dividing the timeline into categories. This allows the user to check sections in which he or she is interested, saving time and excessive scrolling.
Each Tweet fits neatly into one of these categories: photos, videos, audio, links, trends, text only, and hash-tags. As users move through these categories, relevant Tweets are displayed clearly in a gallery format, so users do not miss anything important. Each category appears with full details, including username, time, and avatar. Twitlamp users can also favorite, re-tweet, and compose new tweets, just like they can on the original website.
In effect, Twitlamp offers all of Twitter's functions, plus the additional ease of using categories and a clear display. There are two account options available: the basic membership and the Pro membership. The basic membership is free and automatically updates 10 times every 20 minutes. Those with a basic membership can use the search engine up to 5 times in 24 hours and can browse any user's profile, up to 5 profiles every 24 hours. They also have a Mentions page, Trends page, and Me page.
Twitlamp really comes alive with a Pro membership. The Pro membership offers unlimited timeline views, unlimited search engine use, and unlimited views of users' profiles. The Pro Membership allows full use of the settings, Me page, Mentions page, Trends page, a blocking system, and no advertisements. There are several payment options. The price starts at $3 for one month, $8 for 3 months, and $15 for 6 months.
Everything about this new website is simple, so new and experienced Twitter users will have no problems using it. Login is simple. A user simply logs in through his or her Twitter account. From that moment, everything is automatically shown via Twitlamp.
There is no need to wait for data to transfer. Realizing that a large part of social media is based on aesthetics and speed, the site's creators have tapped into a big market. Users want to access their Tweets quickly, in a clear and visually pleasing manner, and this is exactly what Twitlamp provides. Twitlamp's founders even have a blog to update users on new features, stories, and other interesting information.
Twitlamp's team promises their users that Twitter is not the only social network they'll enhance. They are working hard to improve the interface and integration of the most widespread social networks, providing users with a hub for their social accounts and more.
About the Founders
Saad AlQahtani and Turki ALTwijri, from Saudi Arabia, founded Twitlamp. The former is the New Media Director at the Ministry of Labor and a New-Media consultant, and Turki is a Social-Media expert working at GM. Together they have created a website and service that taps into a clear need in the social media market.
Contact Info.
The founders twitter accounts

Saad Al-Qahtani (@saadtech)
Turki Al-Twijri (@TurkiAlTwijri)
Twitlamp's twitter account is (@twitlampapp)
Twitlamp's website is http://twitlamp.com