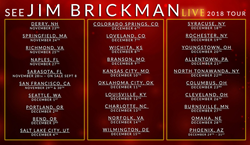 "On behalf of Sound Royalties, I want to extend our warmest wishes and best of luck to Jim Brickman and his team on this year's 'A Joyful Christmas' holiday tour," said CEO and founder of Sound Royalties Alex Heiche.
WEST PALM BEACH, Fla. (PRWEB) November 19, 2018
Sound Royalties is pleased to support two-time GRAMMY nominated songwriter and pianist Jim Brickman on the upcoming launch of his 2018 "A Joyful Christmas" live holiday tour. The 30-city tour begins on November 23 in Derry, New Hampshire with the final performance taking place on December 31 in Phoenix, Arizona during a special New Year's Eve celebration.
Brickman's holiday tour is an annual tradition that brings family and friends together to make new memories and be reminded of love and unity during the holiday season. Concert attendees can expect to hear traditional carols and Brickman's popular songs including "The Gift," "Sending You A Little Christmas," "Angel Eyes," and "If You Believe."
Special guests will be featured throughout the tour, including singer and songwriter Luke McMaster, vocalist Anne Cochran, electronic violinist Tracy Silverman and actor and musician John Trones.
Brickman will wrap up the tour on New Year's Eve weekend with a special "Brickman Bash" in Phoenix, Arizona, taking place December 29 – December 31. The celebration will open with a welcome reception on Saturday night, including organized sightseeing, tours and museum visits throughout the following days, and close with the final holiday tour performance on New Year's Eve.
"Sound Royalties has always been a proud supporter of our events and we are eternally grateful for their backing and shared enthusiasm," said Brickman. "We're very excited to show fans a great time during this amazing holiday tour. The entire team has been hard at work to make sure that this will be an unforgettable experience for all of our nationwide guests."
Alex Heiche, CEO and founder of Sound Royalties, added: "On behalf of Sound Royalties, I want to extend our warmest wishes and best of luck to Jim Brickman and his team on this year's 'A Joyful Christmas' holiday tour. As with all of his events, we know that this tour will be a remarkable and festive experience for everyone across the country."
Tickets are now on sale. For additional information and a full list of tour locations, visit https://www.jimbrickman.com/tour/.
A Joyful Christmas Holiday Tour Dates:
Derry, NH – November 23
Springfield, MA – November 24
Richmond, VA – November 25
Naples, FL – November 27
Sarasota, FL – November 28
San Francisco, CA – November 29 & 30
Portland, OR – December 1
Bend, OR – Bend, OR December 3
Salt Lake City, UT – December 4
Colorado Springs, CO – December 6
Loveland, CO – December 7
Wichita, KS – December 8
Branson, MO – December 9
Kansas City, MO – December 10
Oklahoma, OK – December 11
Louisville, KY – December 12
Charlotte, NC – December 13
Norfolk, VA – December 14
Wilmington, DE – December 15
Atlantic City, NJ – December 16
Syracuse, NY – December 18
Rochester, NY – December 19
Youngstown, OH – December 20
Allentown, PA – December 21
North Tonawanda, NY – December 22
Columbus, OH – December 23
Cleveland, OH – December 26
Burnsville, MN – December 27
Omaha, NE – December 28
Phoenix, AZ – December 29, 30 & 31
About Sound Royalties
Founded by CEO Alex Heiche, Sound Royalties, LLC is a privately-owned specialty finance firm that helps music industry professionals fund personal and professional projects while allowing them to retain the rights to their music. The company's core business is offering royalty advances of anywhere from $5,000 to $10 million. It does this by advancing artist, producer and songwriter royalties paid through music labels, distributors, publishers and PROs such as SoundExchange, BMI, ASCAP, SESAC and many more. To date, Sound Royalties, LLC has worked with a wide range of leading music industry professionals, including GRAMMY Award winners, platinum recording artists and notable music industry executives in every genre. Learn more at https://soundroyalties.com
About Jim Brickman
Jim Brickman's distinctive piano style and captivating live performances, have revolutionized the popularity of instrumental music, making him a driving force behind modern American music. The hit-making songwriter is the best-selling solo pianist of our time earning 21 Number One albums and 32 Top 20 Radio Singles in the industry bible, "Billboard Magazine." He's garnered two GRAMMY nominations, gospel music's Dove Award, two SESAC Songwriter of the Year Awards, and the Canadian Country Music Award. As a true artist that lives and breathes the music he creates, Jim Brickman is thrilled to introduce fans to his most recent songs and perform them live in concert halls across the world.