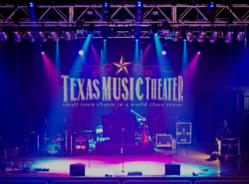 We've watched as more central Texas residents have become regulars and seen growth of sales from across the nation and even Canada.
San Marcos, Texas (PRWEB) March 12, 2013
The Texas Music Theater, a music and event venue in San Marcos, Texas, celebrates its two-year anniversary over the next month with a lineup of a variety of musical genres.
The 71-year-old building has had a popular history as both a movie theater and music venue in downtown San Marcos. Now, the completely renovated and decorated two-level space is quickly becoming a popular live music choice for Central Texas residents and music lovers from across the state and the entire country.
In the two years since opening, owners Scott and Gray Gregson have created an entertainment experience that is unique among venues – a hybrid of both concert venue with room up-close to the stage and a listening-room with intimate and comfortable views in one of the many upgraded seating options available.
These features combined with state-of-the-art acoustics, professional production crew and the diverse talent lineup have created a venue that is getting attention from music fans from across the nation.
"We've learned so much in the past two years," said owner Scott Gregson, "largely because we have listened to our customers. We have worked to provide them a comfortable, clean environment while providing unsurpassed customer service for a unique entertainment experience and some of the best and most diverse music in the area. We've watched as more central Texas residents have become regulars and seen growth of sales from across the nation and as far away as Canada and Alaska. Importantly for our community, we have created a destination location and a reason for new faces to come and visit our downtown and experience what we see every day, how great a community San Marcos is."
What is even more exciting for talent buyer Jeb Hurt is the level of talent the Theater is able to attract because of the reputation the venue is getting with artists, booking agencies and band management.
"This year we are booking artists who have traditionally not had a place to play in this part of Texas. We are hearing from some big names, Grammy winners like Matisyahu or Diamond Rio for example, who heard about us and want to come in. We also get to be the central Texas "home" for bands such as Blue October who can play to sold-out crowds every few months and Texas Country artists on their way across the state and country," he said.
The Texas Music Theater is hosting its anniversary lineup March 8th through April 12th with various genres – A Jimmy Buffett Tribute Show, Indie Rockers, Grammy-nominated songwriters, big names in the Texas Music Scene and Nashville Superstars. The venue also plays host to local bands and other local events including Texas State University's Center for Texas Music History's Unplugged Series.
"The Texas Music Theater is at the crossroads of the music scene in Texas and we are giving residents of Central Texas a new place to see live music, in a comfortable environment with an unparalleled sound system," said Marketing Director, Jodi Tidwell. "We offer such a great variety of talent to give residents, tourists and general music fans an opportunity to come out and see a show and experience the best music in one of the best sounding rooms in Texas - it's part of the Texas experience!"
The March and April lineup includes:
Four time Country Music Association winners: Diamond Rio
2013 Grammy nominated Americana singer/songwriter Will Hoge
CD release party – Rich O'Toole
Rock Band – Blue October
Texas Country icon Jason Boland and Shooter Jennings
Country Star Travis Tritt
About the Texas Music Theater
The Texas Music Theater is a world-class live music and event venue on the historic square in downtown San Marcos, featuring two levels, three bars, upgraded seating options and raised stage. The Theater hosts regional and national talent from all genres. The 71-year-old building was renovated in 2010 with a state-of-the-art acoustic system to create a premier listening experience for music fans. The Theater is home of The Texas Music Scene television show featuring Ray Benson.