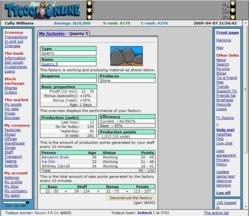 Tycoon Online's casual yet complex style of business management simulation has enamoured players for almost a decade.
Hull, UK (PRWEB) April 09, 2012
Publishers Omerta Game LTD have set up new, secure hosting for the latest 70-day round of Tycoon Online, just as they did with last months launch of a new round for the game's dedicated USA version.
Since purchasing the game from ZKNET at the end of last year, Omerta Game LTD have put their focus behind improving Tycoon Online's infrastructure, rather than changing how the gameplay works. The new hosting brings a faster, smoother user experience to the 9-year strong online sim, which promises to keep business booming for the next 70 days.
"Its great to see both versions of TO up-and-running on the new servers", quipped Bianca Evers, Omerta Game LTD's crew manager, "We didn't takeover Tycoon Online to turn it into something it's not. We simply set out to make what's already there even better and more secure, and that's exactly what we're achieving. Round 2 is going to be a fun competition for all the players involved!"
For many online gamers, Tycoon Online needs little introduction. Boasting a long-standing history in the pantheon of browser-based gaming, it's casual yet complex style of business management simulation has enamoured players for almost a decade.
Take classic off-the-shelf games like SimCity, Roller Coaster Tycoon, and Transport Tycoon Deluxe, mix them together, then add a web interface and massively-multiplayer gameplay - that's the recipe for Tycoon Online. Based in virtual Sweden, players start their own company in a city of their choice. From there, they build factories, produce goods, sell them on the market or in shops, and transport goods that are bought by other players. There is also a stock market where they can buy shares of other players' companies, and a bank to take out loans and make investments.
As an ardent fan of the game, Omerta Game Ltd's CEO, Steve Biddick - who started the company to take control of their other popular MMO, the mafia-themed Omerta – is thrilled to see Tycoon Online running better than ever.
"Tycoon Online has always been made of the 'right stuff'. It had me hooked as soon as I played it all those years ago, and I knew I'd get my hands on it here at Omerta Game Ltd some day! We're excited to see the International version running on our secure hosting now, especially as I'm always playing the game myself. Don't you dare go anywhere else for your plastic - I'll sort you out at Reynholm Industries at a special price just for you. Honest."
New players looking to make a mark in the business world of Tycoon Online can head to the official website and create their own company – http://www.tycoononline.nu.
The game can also be enjoyed directly in Facebook - http://apps.facebook.com/tycoononline/?ref=ts
ABOUT TYCOON ONLINE
Tycoon Online is a family-friendly, competitive, be-your-own entrepreneur-based MMO. It is free-to-play, browser-based and does not require any downloads or installs. Players compete by building successful businesses and attempt to out-do each other by achieving the highest company value.
Each round has thousands of players and lasts for 70 days.