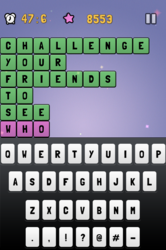 Los Angeles, CA (PRWEB) March 06, 2013
The idea for TypeThis started out as a bet between two friends to see who can text the fastest on their cell phones. TypeThis founder, Hyung Lee recalls, "A few months back, a friend said that I was taking too long to respond to his text messages and blamed it on my slow typing, which led to a debate about who actually was the faster texter." That was the moment when Hyung realized that there should be a game for that. Being a developer, Hyung set out to build this game and the end result is TypeThis.
TypeThis is a fun and engaging turn-based typing game where people can challenge friends to see who is the fastest typer on their iPhones. The game play is simple – the highest score after three rounds wins. Scores are based on speed and accuracy. Other game elements include 'power-ups' that allow players to earn more points with extra time or by collecting special gold letters while typing.
Players are also able to create their own words or sentences and share those with their friends to type, adding a more engaging and personal layer to the game. Additionally, players can choose to type the preset sentences, which include interesting facts about entertainment, sports, the world and random topics.
The company plans to continue to add to the game and maybe even find the world's fastest texter through TypeThis.
About TypeThis:
TypeThis is the first game from Cloud5Labs, Inc (http://www.cloud5labs.com). Cloud5Labs' mission is to build games and applications that people will have fun playing.
Press Contact: Tara Smart
Tara(at)cloud5labs(dot)com