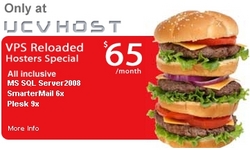 Get started with your own SmarterMail 6x enabled Virtual Private Server in less than 30 minutes, faster than pizza delivery!
Orchard Park, NY (PRWEB) February 2, 2010
UCVHOST is proud to announce its continued partnership with the Phoenix-based software company SmarterTools.
According to Aditya Chandra, CTO of UCVHOST, SmarterTools products have changed the way client website logs and mailboxes are handled. "It's a new-found treasure of tools to make our clients happy and ultimately make our balance sheet greener," Aditya said.
The company has been using software from the SmarterTools product line since 2007, and became a lease-reseller of the software the same year. The ability to cater to an ever-growing demand for SmarterTools products has resulted in an immense boost on revenue and profits for UCVHOST, and company officials believe this fruitful partnership has been a turning point for UCVHOST and its customer base.
UCVHOST actively sells and deploys the following solutions from SmarterTools:

SmarterMail is a leading mail server solution with Exchange-level functionality and the lowest possible TCO. SmarterMail is available with UCVHOST's Virtual Private Server offerings and as add-on software to the Windows Hoster Plans.
SmarterTrack is a powerful help desk application built for tracking, managing, and reporting on customer service, sales, and support issues.
SmarterStats is comprehensive Web long analytics and SEO software that cost-effectively delivers relevant, accurate and detailed website statistics to help online businesses run at maximum efficiency.
As a SmarterTools lease-reseller, UCVHOST also provides support and services for the software at no extra charge.
About UCVHOST
UCVHOST was established in 2000 to support small business websites and emails. Today, UCVHOST is a leading Web hosting provider based in New York, USA and offers affordable and flexible Web hosting plans including Windows VPS Hosting, VPS Web Hosting, Business Web Hosting, Windows Hosting & Linux Hosting on the Windows and Linux platforms. UCVHOST is also a leading lease-reseller of SmarterTools products.
About SmarterTools Inc.
Founded in 2003, SmarterTools Inc. is an information technology-management software company based in Phoenix, Arizona. SmarterTools builds a Windows mail server, customer service software, and Web log analytics and SEO software that simplify and automate the day-to-day IT operations of businesses and hosting environments in over 100 countries. Additional information about SmarterTools Inc. and the SmarterTools product line is available at the company Web site: http://www.smartertools.com .
Microsoft Exchange and Windows are trademarks of Microsoft Corp. SmarterMail, SmarterTrack, and SmarterStats are trademarks of SmarterTools Inc.
###