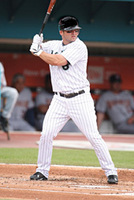 Manasquan, NJ (PRWEB) July 9, 2008
Looks like we're about to get an excellent demonstration of how much all those Supreme Protein® bars have been enhancing Dan Uggla's longball-hitting prowess.
The slugging second baseman, who recently signed a promotional deal with the makers of his favorite protein bar Supreme Protein®, will be featured in Monday night's State Farm Home Run Derby. The highly popular competition pits eight current 2008 MLB All Stars in a multiple-round elimination format in which the goal is to hit as many home runs as possible before tallying 10 "outs" or non-home runs.
This will be Uggla's first apppearance in the showcase, and his second appearance in the All-Star Game. (He appeared in the mid-season classic as a rookie in 2006.) Currently, Uggla ranks second in the National League in round-trippers with 23, behind Philadelphia's Chase Utley, who wil also appear in the Home Run Derby. Other All Stars slated to compete include the Astros' Lance Berkman, the Rangers' Josh Hamilton, and last year's Home Run Derby champ, Vladimir Guerrero of the Los Angeles Angels.
Uggla, who has credited Supreme Protein® and its uniquely high-quality, high-performance protein blend with helping him add muscle and power this year, has been lighting up the scoreboard at an unprecedented rate of late. His stat line a week before the mid-season break (23 HRs, 58 RBI, a .289 BA) made him a certain addition to the 2008 NL All Star roster.
###