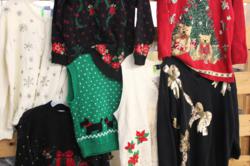 Thrift Town's not your tame little vintage boutique — it's a massive beast of a thrift store, with a huge selection and dizzyingly low prices. SF Bay Guardian
Roseville, CA (PRWEB) November 30, 2011
Forget throwing a traditional holiday party this year. Join in the phenomenon that has reached epic proportions by hosting an Ugly Christmas Sweater Party. Thrift Town, applauds and supports this tradition so much that today they debuted their first annual Ugly Christmas Sweater Contest, awarding a $100 gift card to the person who submit the Ugliest Christmas Sweater entry, because let's be honest, if there's one thing thrift stores are full of, it's ugly sweaters.
Here's a few tips from Thrift Town to help make the most out of this festive occasion.
1. Let's just start out with this disclaimer: Ugly is defined by the beholder. Thrift Town reserves the right to disagree with any personal definitions of ugly and/or tacky!
2. Most people have fond memories of relatives at holiday gatherings wearing sweaters with Christmas trees or Jolly Old St. Nick on them, and granted, the Ugly Christmas Sweater Party theme pokes fun at these wardrobe choices. Nobody wants to offend Grandma, so the trick to really having fun at these parties is to mentally separate the Grandma sweater from the Party sweater. Pretend she wouldn't be hurt by the concept, and above all else, don't tell her about it, or ask to borrow one of hers!
3. Think un-sexy. There is nothing hot about a Christmas sweater, except maybe if it's wearing it in the tropics. The uglier the better.
4. Make it fun! Invitations set the tone for any party. As mentioned above, Thrift Town supports this tradition, and in the spirit of giving, created a free downloadable invitation on their website to use for your gathering. Downloadable file also attached/included in this release.
5. Rather not mess up the house? Do an Ugly Sweater Pub Crawl.
6. Sweaters not your thing, too itchy? There are plenty of other outrageous accessories one can don such as blinking holiday pins, singing ties, giant jingle bell necklaces, and the ever popular dangling Christmas tree light earrings.
7. Deck the halls with over the top thrift store finds.
8. Play up the whole Ugly Christmas Sweater tacky theme, and extend it to the appetizer menu; sausage ball muffins, corn dogs, fruitcake squares or dump cookies.
9. Award prizes for the ugliest, tackiest, most heinous sweater worn. A Fruitcake or Christmas socks are great prize ideas that keep true to the party theme.
10. Finally, take a photo of yourself wearing the Ugly Christmas Sweater, and submit it to Thrift Town's Ugly Christmas Sweater Contest for a chance to win a $100 gift card. No purchase necessary.
Whether looking for an classy wardrobe addition or tacky accessory specimen, Thrift Town is a great place to start the search. Thrift Town does its best to help consumers have successful shopping experiences in our award winning stores by ensuring our facilities are clean, bright, and organized. Thrift Town has 15 store locations, in four western states and is open seven days a week. Each store is around 24,000 square feet and with 4,000 new items put out each day, there are many treasures just waiting to be found. "Thrift Town's not your tame little vintage boutique — it's a massive beast of a thrift store, with a huge selection and dizzyingly low prices." SF Bay Guardian
Thrift Town lives its vision statement of being committed to making a difference every day, raising nearly $85 million dollars for their charity partners by purchasing goods from their charity's household recycling programs. Thrift Town's clean, bright, and organized stores set them apart in the thrift world as the premier thrift destination. Thrift Town is owned and operated by Norquist Salvage Corporation, which has spend nearly four decades dedicated to socially responsible recycling.
###