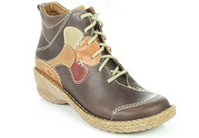 We aren't quite out of the recession yet, but people are choosing to buy quality brands over the cheaper alternatives
(PRWEB) January 18, 2010
While the United Kingdom still hasn't fully recovered from the effects of the recession, public spending is continuing to increase with renewed confidence in the economy since the Christmas period.
In particular, commerce has centred on traditional fine quality goods such as coats, apparel, boots and shoes.
One footwear brand that has received extra attention is Josef Seibel, a German shoe manufacturer renowned for using premium quality materials and the highest standard of workmanship to develop a range of comfortable shoes with a unique European styling.
Despite operating in Europe since 1886, Josef Seibel is relatively new to the UK, having launched its Spirit of Nature range of eco-friendly footwear in spring 2009 to increase awareness.
Fortunately, their sleek Germanic designs and rich natural colours made a huge impact in women's fashion with their ladies Nature 17 boot paving the way to the highstreet shops across the UK.
The Spirit of Nature range in particular had a broad appeal with its focus on environmental awareness, using recycled materials and skillful hand stitching techniques to make some of the most comfortable boots and shoes on the market.
For men, Josef Seibel's range of smart shoes and casual trainers with their continental inspired designs has also proven to be popular as both comfortable everyday shoes and professional footwear for the office.
In an age when mass produced goods and cheap deals have become the everyday norm, the search for high quality products at affordable prices has been increasing.
Hand crafted, the old fashioned way, Josef Seibel shoes are growing in popularity and with a fresh UK audience with an appreciation for higher standards.
The average UK consumer is learning that high quality products offer greater comfort and last far longer than a cheap deal.
###