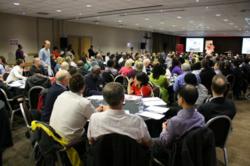 The second step in earning financial freedom and making property deals that lead to long term wealth is to look for a support system to help you get there
London, England (PRWEB) March 21, 2013
In the lead up to his Zero-Debt Property Cashflow Conference in the UK this April, property investment mentor, Rick Otton, has released a powerful four-step strategy for UK investors. He says the advice is necessary for any event participant serious about successfully making the leap from traditional to non-traditional ways of making money through property.
Mr Otton is known in the UK as the creator of "How to Buy a House for a Pound" and for his out-of-the-box strategies which do not require investors or home owners to have access to a bank mortgage, equity from an existing property, stamp duty or a deposit to invest in property.
"Before people can start integrating my strategies, they need to be mentally prepared to do things in a radical new way," he said during a recent Creative iTunes podcast.
"The first step towards this mental re-alignment is to know where you're going, or where you want to get to, then to stick to your goals.
"The second step in earning financial freedom and making property deals that lead to long term wealth is to look for a support system to help you get there, either in the form of people who are already there or people who are going there, otherwise things can get pretty lonely out."
Leveraging experience
Mr Otton said the third step necessary for any UK real estate investor wishing to adopt his creative strategies was to find experienced mentors who would back their vision.
"I'd rather listen to people who are doing stuff and moving forward in the pack, people who are getting their new thinking out there," he said.
"Most people are going to tell you something won't work, so don't ask their advice. Instead, hang out with people who are doing something you want to do or are better at it than you, further up the tree, so you can get pulled up."
Mr Otton said the final step for UK property investors was to develop a timeline of their goals, broken down into hundreds of small, achievable steps.
During the Zero-Debt Property Cashflow Conference, participants will be coached through the nuts and bolts of Mr Otton's strategies, including how to invest in property with no deposit, growth and cash flow, finding bargain properties and rent to buy options, among others.
For more information about the 2013 Conference (being held 19-21 April 2013), visit RickOtton.co.uk
About Rick Otton
Rick Otton has spent decades making money by snapping up inexpensive real estate and putting it to work building wealth.
He is the founder and CEO of We Buy Houses, which operates in the U.S., U.K., Australia and New Zealand putting his strategies to work every day. 2013 marks the 10-Year Anniversary of his introducing property options to the UK real estate market.
Otton received his start in alternative real estate investment in 1991 and within a year acquired 76 properties. In the following years, he made a fortune using his low-risk, high-reward strategies to inexpensively acquire real estate.
Now, Otton shares the wealth by sharing the wisdom, teaching others how to buy and sell real estate without cutting banks and other middlemen in on the deal.
In 2008, Rick revealed his strategies in the United Kingdom and became the creator of 'Houses for a Pound'. Otton has been featured in a variety of television programs and magazines.
Details of Mr Otton's UK Zero-Debt Property Cashflow Conference are at RickOtton.co.uk