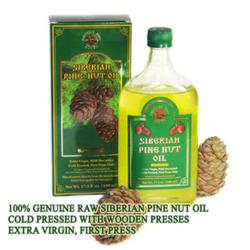 Siberian pine nut oil is the purest in comparison to other vegetable oils.
New York, NY (PRWEB) March 12, 2013
At the present it has been determined that Siberian pine nut oil contains various substances that helps in ulcer treatment. The oil improves the composition of the blood, and helps prevent the development of tuberculosis and anemia. The oil is used for prophylactic purposes in atherosclerosis, hypertension, cirrhosis of the liver, stomach and duodenal ulcer treatment, shortness of breath, and silicosis, and facilitates the treatment of patients suffering from leukemia.
The oil contains a high quantity of vitamin E (tocopherol, 56 mg for 100 g), which promotes the restoration of male potency, the preservation of a high capacity for work, the assimilation of proteins and fats, and treatment in cases of illnesses of the liver, pancreas, intestines, atherosclerosis, and rheumatism. Tocopherol translated means "I bear life." It also contains significant quantities of vitamins P, A, B, which are essential for the normal development and functioning of the human organism.
The oil is composed of unsaturated fatty acids, including those not synthesized in the human body -- linoleic, lineolenic, and arachidonic acid, which possess an antisclerotic action. They have a normalizing effect on the walls of the blood vessels, increase their elasticity, and lower their permeability. It has been determined that linoleic acid possesses a neutralizing effect for many poisons. In this regard, Siberian pine nut oil is extremely necessary for a population that lives in cities, where the atmosphere is strongly polluted by gaseous emissions.
Doctor of Medical Sciences Mr. Yuriy Vasilevich notes that "Siberian oil is the purest in comparison to other vegetable oils. While sunflower, cotton-seed, soya, mustard, rape, and other oils are obtained from agricultural crops grown on soils fertilized with various chemical substances and treated with pesticides, Pine stands in Siberia are not subjected to these types of supplements and treatments, so this oil is ecologically pure."
The vitamin E content in oil exceeds that of olive oil by five times and coconut oil by three times. The concentration of vitamin F in the oil is three times greater than in the cod-liver oil based Vitamin F preparation sold in pharmacies.
The energy value of one gram of Siberian pine nut oil is high, and comes to 9 kCal. The composition of this oil includes vitally essential irreplaceable components, among which are those involved in lipotropic and antisclerotic activity (polyunsaturated fatty acids, vitamins A, E, and others). The ease of assimilation of the oil is high: 95-98%.
Mr. Vasilevich says "Siberian pine nut oil widely can be used in Gastroenterology – in ulcer treatment, in erosive ulcerous lesions of the stomach and duodenum, superficial gastritis and bulbitis, chronic pancreatitis, post-resection disturbances of a peptic ulcer, gastritis of the stump of the stomach, anastomositis, esophagitis, cholecystitis, and hepatocholecystitis."
The natural components of Siberian oil in essence are a concentrate of liposoluble vitamins A, D, F, K, E, and essential phospholipids, and contain such rare trace elements as molybdenum, vanadium, manganese, and iodine, which are essential for the normal functioning of the entire hormonal enzymatic complex of the organism. The preparation has a significantly lower allergic potential in comparison to other oil preparations, sea buckthorn for example, which, of course, is important in its use among children.
The Head of the Department of Food Hygiene at the Irkutsk Medical University Mr. A.N.Litvintsev formulate daily doses for the use of Siberian pine nut oil– "In cases of a peptic ulcer treatment of the stomach and duodenum, it is recommended that patients take it in the amount of 27-36 g daily. The enrichment of an ulcer-healing diet with oil is pathogenetically well founded. The oil suppresses the secretion of hydrochloric acid and regulates the acid-forming function of the stomach, and the fat soluble vitamins it contains promotes the processes of the regeneration of the mucous gastroduodenal area. It has a beneficial action on the functions of the intestine, promotes the evacuation of the gallbladder and the elimination of constipation."
In addition doctor A. Krivosheev notices that "in the market there were detected counterfeits of cold pressed extra virgin Siberian pine nut oil in different packages, in bottles and gel capsules. Counterfeit and low quality oil does not possess above mentioned properties. The best advice is not to take needless risks, and obtain genuine product from official producer SiberianPineNutOil.org."
Medical report formulate by:
A. V. Dyadigurov, Yuriy Vasilevich Ten, P. L. Meshalkina
http://www.pinenutoil.org/
Used by permission.
© Copyright CedarInfo.info