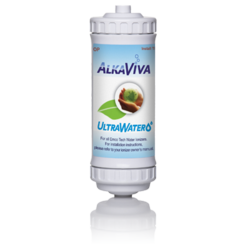 Uncompromising filtration results. Safety you can count on.
Los Angeles,CA (PRWEB) March 10, 2013
The AlkaViva UltraWater filter has taken years of experience, knowledge, and expertise and combined technologies in a proprietary process to provide the ultimate protection from drinking water contaminates. Traditional water filter use loose, granulated water filter media beds to reduce certain contaminates from drinking water. This leaves tiny spaces between the media allowing small percentages of water to pass through untouched.
The UltraWater Filter uses the highest quality medias available and then transforms them into solid forms to literally block contamination from passing through and ending in drinking water. This creates a greater contact time with the water and removes much higher percentages of contamination than traditional loose media beds. The UltraWater Filter offers superior removal of chlorine, chloramines, disinfectant byproducts, VOC's, pharmaceuticals, and heavy metals such as mercury, lead, nickel and iron. (Most to non-detectable levels in laboratory testing) In addition it greatly improves taste and odor giving a great tasting and clean glass of water.
The UltraWater Filter will work with both Jupiter [newer models: Athena, Delphi, Melody/Isis, Venus, Microlite, Neptune, Aquarius, Orion] and the Samsung Vesta GL water ionizers.
To Purchase Ultrawater Filter for your water ionizer visit http://stores.ebay.com/water-ionizer