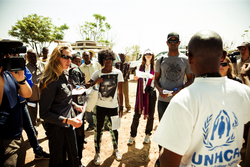 We took on the tallest free-standing mountain on the globe to get the world's attention about the global clean water crisis
Kebribeyah, Ethiopia (Vocus) January 20, 2010
Fresh from summiting Mount Kilimanjaro with featured climbers Emile Hirsch, Lupe Fiasco and Alexandra Cousteau, an event that attracted massive attention from around the world, Kenna, Jessica Biel and Santigold, along with Elizabeth Gore, executive director of global partnerships for the United Nations Foundation, toured the Kebribeyah refugee camp and surrounding towns in eastern Ethiopia. They learned how the global water crisis affects the daily lives of tens of thousands of Somali refugees forced to leave their homes because of conflict, persecution, and climate change. The refugee situation is compounded with the fact that local Ethiopian families are struggling to find enough water to survive in the Jijiga region.
"We took on the tallest free-standing mountain on the globe to get the world's attention about the global clean water crisis," explained Elizabeth Gore. "Even though everyone is exhausted and bruised, there remained a commitment to go see firsthand how the lack of water impacts some of the most vulnerable people – refugees. I am so honored to have climbed with a group of people that want to give a voice to those who have none."
The UN Foundation and the UN refugee agency, or UNHCR invited the SUMMIT ON THE SUMMIT climbers to Kebribeyah, to see how refugees are affected by drastic shortages of drinking water. Both refugees and local Ethiopian families are living on as little as 12 liters a day in this region. In Ethiopia, most of the Somali refugees have been forced to flee by conflict in their homeland, but many have been displaced due to lack of water. Ethiopian nationals who also struggle to obtain enough water for their livelihoods surround these refugees.
It is a struggle for them just to reach the security of camps with scarce water supplies. UNHCR endeavors to ensure that the refugees in Kebribeyah get the recommended daily minimum of 20 liters of water per person. The agency has established water projects, including distribution networks that benefit both the refugees, and the local communities, who also suffer from the harsh climatic conditions. Summit on the Summit intends to raise funds and awareness to ensure this region has adequate water infrastructure.
The water crisis is at the heart of a range of related problems with devastating spillover effects. Girls in this area walk up to six hours a day, and often miss school, in their search for clean water. While in camp, Jessica Biel and Elizabeth Gore visited with refugee girls and moms. It was overwhelming to hear over and over; "Refugees are people too, and we deserve water as a basic human right." Malaria is also prevalent, caused by mosquitoes that breed in stagnant water. These issues, caused by the water crisis, are at the heart of the UN Foundation's mission to decrease child mortality from preventable diseases such as malaria, and to empower women and girls.
"Clean, safe water is essential for life; and the lack of it is devastating. If the world can solve this global water crisis, 80% of developing monies could be freed up to handle deeper, more complicated issues – issues that are much harder to solve," commented Kenna.
Funds raised by visiting summitonthesummit.com benefit organizations and charities which are working to bring clean safe water to the developing world including UNHCR, The Children's Safe Drinking Water Program and Playpumps International U.S.
About the United Nations Foundation
The United Nations Foundation, a public charity, was created in 1998 with entrepreneur and philanthropist Ted Turner's historic $1 billion gift to support UN causes and activities. We build and implement public/private partnerships to address the world's most pressing problems, and work to broaden support for the UN through advocacy and public outreach. Through our campaigns and partnerships, we connect people, ideas, and resources to help the UN solve global problems. The campaigns we conduct reduce child mortality, empower women and girls, create a new energy future, secure peace and human rights, and promote technology innovation to improve health outcomes. For more information, visit http://www.unfoundation.org.
About UNHCR The Office of the United Nations High Commissioner for Refugees was established on December 14, 1950 by the United Nations General Assembly. The agency is mandated to lead and co-ordinate international action to protect refugees and resolve refugee problems worldwide. Its primary purpose is to safeguard the rights and well-being of refugees. It strives to ensure that everyone can exercise the right to seek asylum and find safe refuge in another State, with the option to return home voluntarily, integrate locally or to resettle in a third country. It also has a mandate to help stateless people. In more than five decades, the agency has helped tens of millions of people restart their lives. Today, a staff of some 6,600 people in more than 110 countries continues to help about 34 million persons.
About "Summit on the Summit" SUMMIT ON THE SUMMIT: Kilimanjaro is a project of FTGG – FTGG is a non-profit organization founded by Kenna, with a mission to heighten youth awareness towards social issues through events, projects and programs. Funds raised support fellow organizations dedicated to youth and their future...creating action that is "for the greater good."
###