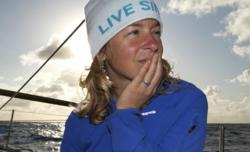 We're going to need to re-design the stuff that we use for disposables....We need everyone to get educated and join this quest. ~ Anna Cummins
Los Angeles, CA (PRWEB) November 29, 2012
From Los Angeles to Mumbai, underserved women are the most susceptible to climate change's negative effects. To address global issues impacting women, the UN Women, Greater Los Angeles Chapter, will host a special event on December 8th with experts from the fields of academia, politics and activism. Topics will include how and why women are most severely affected by climate change and natural disasters, the impact under-representation has on women and decision-making processes, identification of gender sensitive strategies and affective actions in response to climate change.
The Women, Climate Change and Human Rights panel discussion will be moderated by Sarah Backhouse (TV host, producer, sustainability expert and founder of Future360.tv), and will include:
Panelists

Dr. Elaine Enarson, founding member of the Global Gender and Disaster Network and founder/co-facilitator of the US Gender and Disaster Resilience Alliance
Martha Dina Argüello, Executive Director of Physicians for Social Responsibility – Los Angeles
Leila Conners, founder of the Tree Media Group and writer/director of "The 11th Hour"
Dr. Richard Matthew, Professor of International and Environmental Politics, UC Irvine
Anna Cummins, co-founder & Director of Outreach, 5 Gyres
Special contributions by:

Minu Hemmati, Vice Chair, Board of Directors; co-founded Gender CC – Women for Climate Justice
Laura Livoti, JINN (Justice in Nigeria Now)
Cate Owen, Executive Director of WEDO: Women's Environment & Development Organization
Performance Artists - Marina DeBris, Sheryl Lee, and Maya Gabay
To support women empowerment and the environment, the Goody Awards for Social Good has asked TV Host Sarah Backhouse to present a Golden Goody Award (aka Oscar for social good) to Anna Cummins, 5 Gyres Founder at this event. As a new mom with over ten years of experience in non-profit environmental work, Anna is the Co-Founder of The 5 Gyres Institute (5 massive regions in the world's oceans filling up with plastic trash) and Tedx speaker focused on stopping plastic pollution.
As a build up to the December 8th event, the Goody Awards just launched a pro bono "Have a Green Plastic-Free Holiday" marketing campaign (Thanksgiving-New Years) with ongoing tips via multi-media (press release, social media marketing, video, contest, etc) for reducing plastic pollution. To reduce the billions of plastic bottles, bags, and other single-use plastics floating out to sea, the Goody Awards and 5 Gyres will share tips for how everyone can make a difference. Individuals are encouraged to take action to reduce plastic consumption over the holidays, and share their specific steps (example: took my own glass to our holiday party) by tweeting it with #EcoGoody. The individual with the most #EcoGoody tweets will receive a $100 cash gift that the Goody Awards will donate to their charity of choice.
Participants attending this event will be able to connect with leading researchers, experts and activists in the fields of climate change and human rights. Attendants will leave with an awareness of global conditions and will be inspired to take action locally. The proceeds will support UN Women. To purchase tickets ($25/$35) or make a donation, visit the event site http://unwlaspecialassembly.wordpress.com/tickets/
Background:
The United States National Committee (USNC) - UN Women's Greater Los Angeles Chapter was founded on February 12, 2012 as an inclusive community of like-minded individuals who share a common concern and support for global women. As part of the USNC's 13 US chapters, the Greater Los Angeles Chapter is committed to furthering the goals of UN Women on realizing gender equality and the empowerment of women through advocacy, local programs and events that engage the community. http://www.unwomen-usnc.org/greaterla
Goody Awards - The Goody Awards does Social Good Awards via social media, special events and cause marketing campaigns in 4 key areas: women empowerment, health, environment, and education. To support causes and recognize good, the Goody Awards does pro bono PR for charities tied to Special Awards year-round. The Goody Awards mission is to inspire change by recognizing the good in the world. Anyone can tweet a shout out thank you at anytime via social media by including #HeroGoody #EcoGoody #TeamGoody #TeacherGoody and #GoodDeedGoody. CEO/Founder Liz H Kelly has built marketing programs for Fox Interactive Media/MySpace, Paramount Pictures, and the first Sprint PCS / Sprint Spectrum. Global Media Experts, Actors, Producers, Mobile Leaders and Philanthropists are on the Goody Awards Advisory Board. http://goodyawards.com
Media Contacts:
Arianna Menon, Director of Communications
Greater Los Angeles Chapter of the United States National Committee for UN Women
C: 310.710.3861
Liz H Kelly, CEO/Founder
Goody Awards
310.987.7207