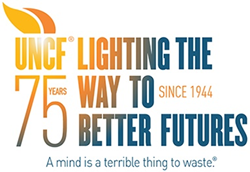 "You can put a price on tuition, but you can't put a price on the intrinsic value and impact higher education has on one's mind," Ellis said. "UNCF's work is proof that when you invest in underserved populations, it changes lives."
HOUSTON (PRWEB) October 25, 2018
Born to a landscaper and a maid, one Sunnyside student raised in Houston's southeast side made his way through college and law school with help from the UNCF (United Negro College Fund). Decades later, he now serves as Harris County Precinct One Commissioner. Rodney Ellis is one of thousands of success stories of students who earned a degree thanks to support from UNCF.
"You can put a price on tuition, but you can't put a price on the intrinsic value and impact higher education has on one's mind," Ellis said. "UNCF's work is proof that when you invest in underserved populations, it changes lives. My long tenure in public service is partially thanks to their support. I look forward to joining UNCF as they recognize 30 years and send the next generation of leaders and change agents to college."
For 30 years, UNCF Houston has funded the dreams and education goals of Houston's underserved students. On Saturday, Nov. 17, at the Hilton Americas Hotel, the dream continues. UNCF Houston's "A Mind Is…" Gala aims to provide 700 students with college scholarships next school year and continue supporting historically black colleges and universities (HBCUs). Generous community leaders, including the Bush family, will be honored at the event.
"The UNCF Houston gala has raised $9.8 million dollars to support UNCF member HBCUs and provide scholarships for local students who may have been otherwise unable to attend a college or university," UNCF Area Development Director Juana Collins said. "Our efforts have successfully created a pipeline of thriving leaders who are driving a positive impact in our community, but our work is far from complete. The annual gala is pivotal to raising funds, changing the face of education and honoring those who have helped blaze the path."
H-E-B will join UNCF as a presenting sponsor to honor long-time UNCF supporters and philanthropists, Neil Bush, son of former U.S President George H.W. Bush, and his wife, Maria with the "Excellence in Education" Award. Dr. Nicole McZeal Walters, Associate Dean of Graduate Programs in the School of Education at University of St. Thomas, will receive the "John and Drucie Chase Young Builders" Award. Gala guests will also have the opportunity to watch a musical performance by Morris Day and The Time as well as enter a raffle.
Last year alone, UNCF provided scholarships to 683 Texas students who now attend UNCF's Texas member schools, including: Huston-Tillotson University, Jarvis Christian College, Texas College and Wiley College. HBCUs like these generate $1.3 billion in total economic impact and 11,490 jobs per year. Scholarship recipients also attend schools across the state, such as University of Texas at Austin, Texas A&M University and University of Houston.
Additionally, for students who earn a college degree, the incidence of poverty is 3.5 times lower, the likelihood of being employed is 24 percent higher and the probability of having a retirement plan and health insurance are 72 and 41 percent higher, respectively.
"I honestly would not have come this far without the help of UNCF," scholarship recipient, Dorcus Mbaeri, said. "I was able to focus on my career path, attend academic conferences, network with others and ultimately land the position I have now."
Gala tickets are available at UNCF.org/HoustonGala and the event can be followed on social media with #UNCFHouston. Chris and Divya Brown and James and Marla Davis are serving as honorary chairs, and the gala chair is Shawntell McWilliams.
ABOUT UNCF:
UNCF is the nation's largest and most effective minority education organization. To serve youth, the community and the nation, UNCF supports students' education and development through scholarships and other programs, strengthens its 37 member colleges and universities, and advocates for the importance of minority education and college readiness. UNCF institutions and other historically black colleges and universities are highly effective, awarding nearly 20 percent of African American baccalaureate degrees. UNCF awards more than $100 million in scholarships annually and administers more than 400 programs, including scholarship, internship and fellowship, mentoring, summer enrichment, and curriculum and faculty development programs. Its logo features the UNCF torch of leadership in education and its widely recognized motto, "A mind is a terrible thing to waste, but a wonderful thing to invest in."® Today, UNCF supports more than 60,000 students at more than 1,100 colleges and universities. Learn more at UNCF.org or for continuous news and updates, follow UNCF on Twitter @UNCF and use #UNCFHouston to follow the event on social media.