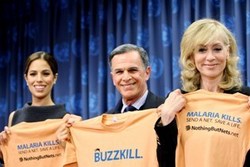 We love that Ugly Betty is using the fashion bug to help stomp out the deadly bug, the malaria-carrying mosquito
Washington, D.C. (Vocus) October 16, 2009
The United Nations Foundation's Nothing But Nets, a global, grassroots campaign to prevent malaria in Africa, announced today it will be featured during the season premiere of the hit ABC series Ugly Betty airing on October 16, 2009 from at 8-10 p.m. EST. Filmed at the United Nations headquarters in New York, the cast and crew of ABC's Ugly Betty are starting the new season in style by featuring Nothing But Nets to help raise awareness about malaria.
In the season premiere, main character Betty Suarez, newly promoted Features Editor for MODE Magazine, makes the pitch to do a feature on nets. This fashion magazine spread isn't about fishnets or hairnets; it's about anti-malaria bed nets. For the first time, MODE will help more than just fashion victims and encourage readers to buy fabrics you won't see on the runway--long-lasting, insecticide-treated bed nets, one of the easiest and most cost-effective methods of preventing the spread of the malaria.
"We love that Ugly Betty is using the fashion bug to help stomp out the deadly bug, the malaria-carrying mosquito," said Adrianna Logalbo, Director of Nothing But Nets. "Betty is the perfect T.V. character to help us spread the buzz about the importance of malaria prevention in Africa. Her determination to address the issue reminds us of the hundreds of thousands of Nothing But Nets supporters who are raising awareness and funds to send nets and save lives. We hope Ugly Betty viewers will join the effort!"
The UN Foundation's Nothing But Nets is encouraging supporters across the U.S. to gather their friends, family members, and colleagues to host watch parties to build the buzz around the season premier.
Malaria infects more than 500 million people around the world each year, killing more than 1 million. The disease is a leading killer of children and refugees in Africa, where 90 percent of malaria deaths occur. Every 30 seconds a child in Africa dies from a malaria infection. Bed nets prevent malaria transmission by creating a protective barrier against mosquitoes at night, when the vast majority of transmissions occur. For only $10, anyone can send a net and save a life; and together we can cover Africa.
About Nothing But Nets:
Nothing But Nets is a global, grassroots campaign to save lives by preventing malaria, a leading killer of children in Africa. Inspired by sports columnist Rick Reilly, more than 100,000 people have joined the campaign that was created by the United Nations Foundation in 2006. Founding campaign partners include the National Basketball Association's NBA Cares, the people of The United Methodist Church, and Sports Illustrated. It costs just $10 to provide a long-lasting, insecticide-treated bed net to prevent this deadly disease. Visit http://www.NothingButNets.net to send a net and save a life.
Media Contact:
Amy DiElsi
Communications Director for Children's Health
202-419-3230
adielsi (at) unfoundation (dot) org
###