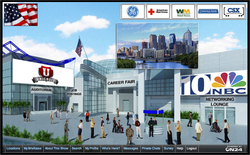 Doylestown, PA (Vocus) September 1, 2010
Unicruit- The market leader in virtual career fairs announces a partnership with NBC 10 Philadelphia to deliver the Delaware Valley Virtual Career Fair which will bring industry leading employers and job seekers together in a 3 dimensional online environment. The virtual career fair will open on November 18, 2010 at 10:00 AM EST. and will be available on demand for the following week.
"We are thrilled to partner with NBC10 in this groundbreaking event, and look forward to demonstrating just how efficient and effective the Unicruit platform is in helping employers reduce both cost and carbon that is usually associated with attending brick and mortar type career fairs" Says Kevin O'Brien, CEO Unicruit
The Delaware Valley Virtual Career Fair will be open to all area residents, and will showcase many of the areas more prominent employers. Unlike a traditional career fair that requires a job seeker to travel to and from a physical location, the Unicruit events provide a fully interactive, 3 dimensional experience that essentially brings the career fair to the job seeker and employer. Unicruit is working closely with the career services departments at many of the area colleges and universities to ensure thousands of students and alumni from the entire region will be invited to participate.
"NBC 10 is pleased to be a part of the 2010 Delaware Valley Virtual Career Fair.
In this tough economy it's more important than ever for people to have easy access to job opportunities.
It's an innovative approach to finding employment, and it couldn't come at a better time.
We wish all the participants success on November 18th" States Tracy Davidson, NBC10 Anchor & Consumer Reporter
In the virtual career fair, a job seeker will have the opportunity to; visit employer booths, view/apply for jobs, chat with recruiters, and even video interview. There is also a virtual auditorium that will allow attendees to watch videos that will offer career advice, and visit the networking lounge to chat with fellow attendees and employers.
Visit http://www.delvalcareerfair.com to register today. Employers interested in participating should do so soon to guarantee their place. The virtual career fair is limited to 90 employer booths.
About Unicruit
Unicruit is a division of UBM Studios, the leader in virtual events and virtual business solutions. A pioneer with virtual platforms, UBM Studios delivers deep expertise in live and online events that brings business value to customers. UBM Studios connects, educates and enables virtual communications through a portfolio that fits every budget. UBM Studios is the only virtual event provider to offer platform, content, audience recruitment, reporting and social marketing and gaming. UBM Studios virtual events include Virtual Trade Shows, Virtual Career Fairs, Virtual Seminar Centers, Virtual Resource Centers, Virtual Product Launch, Virtual Business Continuity, Virtual Corporate Meetings, Virtual Sales Meetings, Virtual Focus Group Centers and Virtual Training. UBM Studios delivers a complete global communication solution in Asia, Europe and North America in industries including health, finance, technology, building and education.
About NBC 10
NBC 10, One of 10 owned & operated NBC Universal television stations, is located in Bala Cynwyd, PA, a suburb of Philadelphia in the 4th largest television market. NBC 10 produces over 40 hours of local news and entertainment each week. Properties of NBC 10 also include NBCPHILADELPHIA.COM and StudioTen creative group.
###