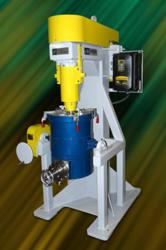 Akron, OH (PRWEB) October 14, 2011
Union Process, Inc., known globally as a manufacturer of particle size reduction and dispersing equipment as well as related services for a broad range of research and industrial applications has built a 5-SDM Attritor for a solar technology application.
The 5-SDM Attritor is a uniquely designed mill that combines the features of a wet grinding, batch with the added benefits of being able to accommodate small media (less than 1mm).
For applications that require it, Union Process can also build Attritors with metal-free components. This particular batch mill was built to the customer's specifications to include a Tefzel-lined grinding tank, a plastic-coated stainless steel shaft with Union Process' proprietary zirconium oxide (yttria-stabilized) Delta Disks. Using the hybrid technology of batch milling and small media milling, the 5-SDM was designed to wet-mill a Solar Technology material down to the nano particle size range using 0.5 mm high purity zirconium oxide (yttria-stabilized) grinding beads. The small media/batch mill can run at speeds up to 1200 RPM and includes an explosion-proof motor.
A 5-SDM Attritor has a 14-gallon tank capacity, a slurry capacity of 4 gallons and a media volume of 6.5 gallons. The small production mill is operated with a 15 HP motor.
Union Process is the inventor and developer of Attritor technology and manufactures wet and dry grinding mills as well as small media and batch mills.
Attritor is a registered trademark of Union Process, Inc.
# # #