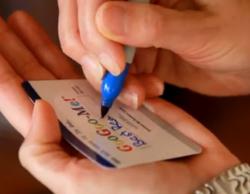 "Search-4-Me cards operate on essentially the same principle involved so often, these days, when someone is asked for their business card and says, in reply, 'Just Google me.' It's that easy, just a million times faster and far more direct."
Mansfield, MO. (PRWEB) August 30, 2011
Top Producer Promos, here, has introduced a line of custom-printed business cards that rely on a built-in, Web-like "search engine" to make especially positive and lasting impressions on those who are given them in meetings, sales calls, or any other type of business encounter.
"Search-4-Me cards represent a brand-new concept in business cards," said Richard Tattoli, CEO OF Top Producer Promos, makers of the exciting new product. "They're designed to quickly break the ice, build rapport, and do what any unique business card is meant to do: keep you top-of-mind with an important contact. They're perfect for trade shows, they're just right for one-on-one meetings. They'll set anyone - salesperson, executive, or professional - apart from the competition."
These new, unique business cards employ proven technology to create what appears to be a wireless broadband Web connection in the palm of the recipient's hand. In fact, no electronics are involved, but the impression the cards make is that they are connected to the Web at high-speed.
"Search-4-Me cards look like they might work through magic," says Richard "And they almost do. We've put a new twist on some established techniques and created what's easily the most powerful idea in business cards since custom-printing came on stream in the 1980s."
When first removed from their pocket case, the cards appear to be all blank on one side while showing a familiar internet style "search box" on the other. However, as soon as the name of the cards' owner is written into that search box, by pen, the card swiftly kicks into action. Instantly and silently, it retrieves a full set of personal information about the owner - in essence, a complete business card - that it displays in four colors on its previously blank obverse side.
As shown in the short video, Search-4-Me cards work smoothly and reliably. There are no moving parts to break or replace, no ink or other consumables to purchase. These unique business cards may appear to rely on sleight of hand - close, but no cigar! - or an obscure photographic process involving light's effect on strange chemicals. In fact, nothing of the kind is involved. No accomplices are required and mastering the Search-4-Me cards requires only a few minutes of easy, hands-on training - as enhanced by a specialized video included with the cards.
Says Richard: "Search-4-Me cards operate on essentially the same principle involved so often, these days, when someone is asked for their business card and says, in reply, 'Just Google me.' It's that easy, just a million times faster and far more direct."
Printed to exacting standards in the U.S.A., Search-4-Me cards can be tailored to any industry or job title. They can include custom logos, hi-resolution photos, and all-digital QR codes for instant scanning by mobile phone. With rounded corners and a standard size, they fit into any wallet - or into the leather carrying case, with felt-tip pen included, that's included in the basic price.
The Search-4-Me brand of unique business cards are priced at $395 for 500 cards and are available at different quantity price breaks with many options available.
###