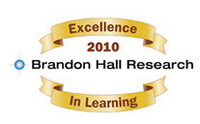 Menlo Park, CA (PRWEB) November 8, 2010
Unisfair, the leading provider of virtual events and business environments, and Medco Health Solutions Inc., a provider of clinically driven pharmacy services, have won a coveted Brandon Hall award for excellence in the "Best Use of Virtual Worlds for Learning" category.
The award recognizes a fully interactive 5-day virtual training event held in Unisfair's Virtual Classroom in 2009, which replaced Medco Health Solutions' traditional sales training. The event – which served more than 800 people and incorporated online learning, live chat, discussion forums, immersive booths and downloadable collateral, as well as live and on-demand sessions – saved Medco more than one million dollars without sacrificing effectiveness.
The Brandon Hall Excellence in Learning Awards are presented annually by Brandon Hall Research, one of the leading research firms in training and development. Now in its sixteenth year, the Awards program showcases exceptional work in the use of learning technology. A total of 214 entries were originally submitted and the entries were evaluated by a panel of veteran, independent senior judges.
"We are honored to be recognized with the prestigious Brandon Hall Learning Award," said Hoang Vuong, CEO of Unisfair. "We're proud to share this recognition with Medco, who has truly set the bar in hosting an engaging and cost-effective virtual training event."
In addition to higher attendee satisfaction, companies leveraging the Unisfair Virtual Classroom have reported a 95 percent reduction in training costs, with the average cost per attendee going from $2,000 and more to under $100. By replacing traditional training with a virtual classroom, companies are able to save millions of dollars without sacrificing effectiveness.
The Unisfair Virtual Classroom enables the trainers to teach in a stimulating environment and monitor learning progress. The outstanding success rates delivered by the Unisfair Virtual Classroom are the result of providing participants a highly interactive and exciting learning environment, including studying live with an online instructor or accessing the recorded training sessions when it is most convenient. Learners can network with experts and other participants to deepen the learning experience.
"These winning entries are very impressive," said Brandon Hall, Ph.D., chairman of the Awards program. "We are thrilled to recognize innovative learning of such high quality."
This marks the fourth award Unisfair has been recognized with in 2010. Earlier this year, the company received the AlwaysOn OnMedia 100, the AlwaysOn Global 250 and the Beagle Research Sustainability Award.
For more information, visit http://www.unisfair.com.
About Unisfair
Unisfair provides cloud applications for the world's most innovative companies to create branded and interactive virtual environments. Unisfair's Virtual Engagement Center is a new channel to connect with customers, prospects and employees anytime and anywhere. Industry leaders like 3M, ADP, Cisco, Genentech, Novartis, IBM, and KPMG leverage Unisfair's platform for lead generation, customer engagement, training, recruiting and more.
Unisfair's virtual environments are easy to use and offer a highly interactive experience through speaking sessions, exhibition floors and networking areas. By tracking the activities of each individual attendee, Unisfair delivers exceptional marketing intelligence.
Backed by Sequoia Capital and Norwest Venture Partners, Unisfair is headquartered in Silicon Valley and has led the virtual events space since 2000. For more information visit http://www.unisfair.com.
About Brandon Hall Research
Brandon Hall, Ph.D. is the CEO of Brandon Hall Research and author of the ground-breaking "Web-Based Training Cookbook." Since 1992, Brandon Hall Research (http://www.brandon-hall.com) has been providing independent research reports and expert advice on using technology in learning. Brandon Hall Research conducts the Awards program each year to recognize the best in innovative learning.
###