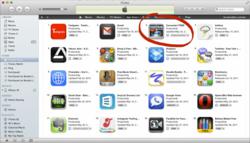 We have a tiny fraction of the available funds that our competitors have, yet we're grabbing market share at an astonishing rate
Santa Cruz, Bolivia (PRWEB) June 01, 2012
Pinch Multimedia, a mobile app development company located in Bolivia, the poorest country in South America, announces the launch of their first app – Converter! – a universal unit converter, on the App Store. The company has also posted expectation-shattering download figures, landing Converter! in the number 6 spot among productivity apps in the U.S., and surpassing much wealthier, larger rivals Evernote and Dropbox.
It's no small feat for this little startup located in a country with a per capita GDP of $4,800. According to the Center for Economic and Policy Research, 60.1% of the population lives in poverty, 37.7% lives in extreme poverty, and only 19% have Internet access. In view of these figures, it's hardly surprising that Pinch Multimedia is the very first Bolivian mobile app development company to have a paid app on the App Store. The company also plans to launch more apps in the near future, for both iOS and Android, including a currency converter, a voice recognition app for social networks, and a social network aggregator.
CEO and founder Branko Zabala, who started developing software at the age of eleven at a time when most people in Bolivia had yet to hear the word "computer," sees being first as key: "There's so much room for growth in this industry. We've built a team that's both local and international. Being located where we are has proven to our advantage. Our low operating cost gives us a unique opportunity to be creative as well as to fine-tune our apps. We're out to prove that we can make great things in Bolivia and sell them to the world."
Zabala knows something about fine-tuning. Pinch Multimedia was incorporated in September 2011. It grew out of what was, as recently as 2004, a one-man show with a capital investment of $900. During the next seven years, in the spirit of a true entrepreneur, Zabala managed to expand his business over 800 times. "Pinch Multimedia represents a brand new challenge. It's what I always dreamed of," says Zabala from his offices in the heart of hectic Santa Cruz, "right from the beginning, even when I was working out of my parents' living room. And now Pinch Multimedia has an app on the App Store. It's really gratifying that, on a store with more than 500,000 apps, ours has been selling since day one, and we haven't yet launched our marketing campaign. But what really shocked us were the results of our free version of Converter! We're almost speechless."
Zabala was referring to the May 17th one-day promotional giveaway of the full version of the Converter! By midnight of the 17th, Converter! had been downloaded 32,933 times, landing it in the number 6 spot among productivity apps in the U.S., moving it ahead of giants EverNote and Dropbox. In Germany, Converter! reached the number 1 spot among productivity apps and the number 35 spot overall, beating out wealthy rivals Skype, Facebook, and Amazon.
Post-giveaway, Converter! continues to be a top productivity app in many countries. The free version of Converter! has become a Top 10 productivity app and is downloaded 10,000 times a day. Says Zabala of the results thus far: "We never thought it would be possible so incredibly soon. We have a tiny fraction of the available funds that our competitors have, yet we're grabbing market share at an astonishing rate." When asked about future plans he says, "We're especially excited about our voice recognition social network app. I can't wait to talk into my iPhone and have it instantly pop up on my social networks. And we're just starting. I don't see a ceiling. In 2012, there will be 1 billion mobile users worldwide between iOS and Android alone. I feel like it's the right time and place to really make a go of it."
About Pinch Multimedia
Pinch Multimedia is an app development company incorporated in both Bolivia and the United States. It is currently focused on developing mobile software and has plans for significant expansion in the near future. Their premiere app, named Converter! features over 400 units across 16-plus categories, and stands out from other converters on the market thanks to its intuitive interface, extra-large display, and customizable looks. It is currently available on the App Store or can be viewed on the company website http://pinchmultimedia.com. For further information, contact Branko Zabala at (591) 760-00076 or via email at branko(at)pinchmultimedia(dot)com.
###