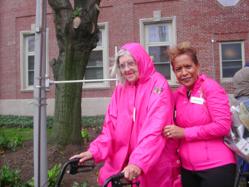 President and CEO Lawrence Carlson reflected, "We extend our profound gratitude and praise our associates. Over the next few weeks, the Homes will be focusing on debriefing, documenting lessons learn
Neptune, NJ (PRWEB) November 07, 2012
As a faith based organization, United Methodist Homes' associates prayed together when learning of the forecast for super-storm Sandy. Entrusted with the welfare of almost 1,400 residents in 10 communities, they requested wisdom, safety and protection. Intensive weather monitoring began on Wednesday.
Prior to Sandy, the Homes' disaster and emergency plans were well tested during Hurricane Irene in 2011. To ensure effective communication organization-wide conference calls begin on October 25 and continued for one week, through November 1. Initially as per the Offices of Emergency Management (OEM) recommendations, the Homes' leadership determined that all would shelter in place with the potential to evacuate.
With the storm predicted to hit New Jersey on October 29, both Friday and Saturday focused on the goal of being well prepared. We began to make all buildings ready for evacuation or to receive others. Essential supplies like batteries, radios, flashlights, generators, fuel, equipment and other provisions were secured. Staff anticipated and planned for needs such as linens, beds, oxygen, medications, food, transportation and more. Many of the Homes' vendors were called. Plans and options were communicated to residents and their families and associates. Some residents decided to shelter with family members.
The location of four coastal communities gave particular concern: Francis Asbury Manor in Ocean Grove; The Shores at Wesley Manor and Wesley by the Bay, in Ocean City; and Wesleyan Arms in Red Bank. On Saturday, leadership directed the evacuation to proceed. Nearly 500 residents in these four communities along with staff, left on Sunday, ahead of the storm.
The Shores at Wesley Manor and Wesley by the Bay traveled to Pitman Manor, Collingswood Manor and to the Hotel ML in Mount Laurel. Similarly, Francis Asbury Manor traveled to Bristol Glen and the Budd Lake Holiday Inn. Wesleyan Arms residents found sanctuary, meals and warm oversight at the nearby Salvation Army in Red Bank. Some associates left their own homes and families behind, while others brought children along.
Twelve hundred residents and associates at Collingswood Manor, Pitman Manor and Bristol Glen lovingly displayed radical hospitality under less than ideal circumstances. Together for five days, all associates served meals, set up cots, played games, made new friends, laundered linens, distributed hot beverages, spoke reassuring words and responded to the needs presented.
An around-the-clock Emergency Command Center at the Home Office manned an emergency phone line and posted on Facebook and the Homes' website. It also served as the central coordination point for all operations during the storm and gave assistance and direction to associates in the field. Command personnel checked on and confirmed the whereabouts and safety of residents when concerned loved ones inquired. President and CEO Lawrence Carlson, positioned at the Command Center, continued to hold conference calls with key personnel. The center continued operations through November 2.
After assessing and preparing the evacuated buildings for re-entry and obtaining the required permission from the local OEMs on Wednesday, Thursday became the target day to return. It proceeded with the same care and precision as the evacuation. Residents were greeted by staff, escorted indoors, treated to hot beverages and warm snacks, and later, a special homecoming dinner.
Although surrounded by both the bay and ocean, miraculously, The Shores at Wesley Manor and Wesley by the Bay incurred no damage. Similarly, Francis Asbury Manor survived without incident. We can only conclude that the Lord placed a "hedge of protection" around us. Many people, both near and far away posted prayer messages—a gesture which touched us deeply.
President and CEO Lawrence Carlson reflected, "We extend our profound gratitude and praise our associates who demonstrated love, service, loyalty and selflessness. Over the next few weeks, the Homes will be focusing on debriefing, documenting lessons learned and best practices, filing claims as appropriate and restoring all our communities to normal operations."
United Methodist Homes is a not-for-profit organization guided by a volunteer board of directors affiliated in ministry with the Greater New Jersey Annual Conference of the United Methodist Church. The mission of the United Methodist Homes is to provide quality and caring services to senior men and women in a Christian community. With over 105 years of continuous operation, the organization has grown to ten communities offering independent, residential, assisted-living, skilled nursing, short-term rehabilitation, memory support, respite, and hospice to persons of all faith backgrounds. For additional information call the Home Office at 732-922-9800.